Getting started in a career in research
What inspired you to work in CF research?
I've been interested in paediatric respiratory medicine since medical school, which in part comes from memories of frequent trips to see the doctor for asthma as a child. During my PhD, I worked with Professor Jane Davies and Professor Eric Alton at Imperial College London, looking at 'outcome measures' for the Gene Therapy Consortium clinical trials. Outcome measures are assessments that researchers use to tell if a medicine is working or safe in a clinical trial, and it's important that the right ones are chosen. It was my first experience of research in CF, and ignited a long-term interest in the area of clinical trials and how they're run.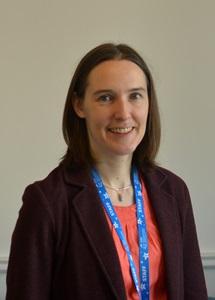 What's your CF research about?
My research is about improving the design of clinical trials. This includes how to fit trials into routine care and how we can minimise the burden of doing a trial – both for those taking part, and for the clinical care teams running them. The CF community's research priorities highlighted by the James Lind Priority Setting Partnership in 2017 are at the core of my work, particularly in relation to identifying ways to simplify the burden of treatment. I'm keen to use patient registries, such as the UK CF Registry, to design careful 'pragmatic' clinical trials that will give meaningful answers to research questions that are important to the CF community.
What advice would you give to girls and women considering a career in science?
My advice is to go for it! Keep your mind open and realise that there are so many careers and career paths, most of which you probably won't even know exist until you start on the journey. Don't be afraid to make your own path too, as long as you know which direction you want to travel in. Seek out role models and find out how they got to where they are, and ask about the tricky times as well as their successes.
What about your successes and tricky times?
I had some very influential role models early in my career, which I attribute to my success so far. I've also got quite a bit of determination, and good working relationships with collaborators across different sectors. I've just started a UK Research and Innovation (UKRI) Future Leaders fellowship and I have the opportunity to talk to colleagues working in fields as diverse as archaeology, law, chemistry, history and medicine. It's a great opportunity to be part of something wider and bring that experience back to my research.
However, sometimes it's tricky. I work part-time and I've got a three and a five-year-old, so you do feel like you're splitting yourself in terms of clinical commitments, research and looking after two young children. However, each in turn brings skills, experience and a lot of joy!
What's next?
I'm co-Chief -Investigator for the CF STORM clinical trial with Professor Kevin Southern at University of Liverpool, working with the Liverpool Clinical Trials Unit. The trial is funded by the National Institute for Health Research (NIHR) and aims to address how the treatment burden for people with CF could be safely reduced, which has been identified as a top research priority by patients and their healthcare teams. We're hoping to open sites this spring and get people enrolled after that, so it's full steam ahead!
We'll have more information to share about CF STORM soon, so watch this space! For information on current clinical trials open for recruitment, please look at our Clinical Trials Hub.