Distal intestinal obstructive syndrome (DIOS) is a common issue among people with CF, requiring hospital treatment and even surgery. The Cystic Fibrosis Trust has launched a new Strategic Research Centre, led by Professor Soraya Shirazi-Beechey at the University of Liverpool, to find new treatments to prevent DIOS and related intestinal issues in people with cystic fibrosis. 
How it came about
In 2016 the Trust held a 'research sandpit' bringing together experts in intestinal digestion and CF specialists to look at how future research projects could address the most significant digestive issues that people with CF face.
Dr Paula Sommer, Head of Research at the Cystic Fibrosis Trust, said: "It's great to see how the research sandpit inspired researchers to apply for Strategic Research Centre (SRC) grants in this field – SRCs are our largest research investments, with each one costing up to £750,000. It directly addresses one of the key priorities for research into CF that people with the condition named as part of the James Lind Alliance Priority Setting Partnership. 
"This project is also special in that at the end the researchers hope to run a clinical trial on the best treatment, meaning that we could make real progress in the fight to restore digestive comfort to everyone with cystic fibrosis."
How it will work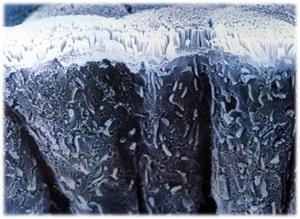 Researchers from the academic and medical institutions in the UK, The Netherlands, Germany and Israel will combine experience and expertise to find a way of preventing the cells lining the CF gut from removing too much water and sodium from the digested matter, increasing the amount of fluid left in the intestine to help fluid flow through the body. To do this, they will use laboratory-grown mini-guts called 'organoids'.
Professor Shirazi-Beechey, the Principal Investigator, said: "I am very grateful to the Trust for funding this project. We can't wait to get started and see how we can apply some exciting new techniques to the issues affecting the digestive system of people with cystic fibrosis, which we know could make a big difference to their lives."
Find out more about this new SRC, and don't forget to make a donation if you want to support projects like this and help us create a brighter future for everyone with cystic fibrosis.
Image: a scanning electron microscopy image of three of the cells that line the intestine and are involved in the absorption of salt and water, courtesy of Professor Shirazi-Beechey.