Grants not taken for granted
The fight for a life unlimited by cystic fibrosis (CF) isn't just about a vision for the future – it means making a difference for people right now. In CF Week we are exploring some of the ways that your support changes lives.
Your hard work means that people with CF and their families have access to a wide range of resources when they need it most, from the helpline and the support of our Welfare & Rights Advisor to multimedia packs dealing with new diagnosis, fertility and schools.
Did you know?
Thanks to you, last year we were able to provide 799 grants, worth over £230,000!
Health and wellbeing grants (one of three types of grant we offer, alongside emergency and holiday grants) help people purchase goods or services that can improve their health and quality of life. These grants are awarded by a panel that meets every two months to carefully assess each application, ensuring we can focus our support on those in most need.
Here are just two stories from among the hundreds of people who have received a grant from the Cystic Fibrosis Trust, made possible by the generosity of our supporters.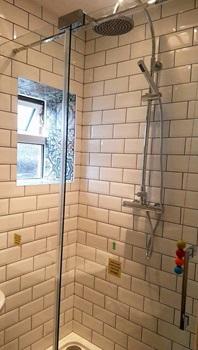 Beata and Jakub
Beata applied for a health and wellbeing grant to help replace the mouldy shower unit that she was worried may pose a health risk to her four-year-old son Jakub, who has cystic fibrosis. Jakub's CF team were concerned about the mould, and in particular that it may harbour Pseudomonas. This meant Jakub wasn't allowed to use the shower or even the toilet next to it.
Beata says: "Our shower room was dull, old, smelly and scary, leaking and not working for us at all. We didn't allow Jakub to use it, except the toilet for emergencies, he never used it to shower."
When Beata called the Trust, we were able to give her and her family £350 towards the cost of a new shower unit (pictured), and it has made a world of difference.
"Now, with our new clean shower room Jakub can finally enjoy the shower and he can use the toilet. Thank you so much for your generosity, it is greatly appreciated and it has made a massive difference to Jakub's life."
Sheena's story
Sheena is in her 40s, and has cystic fibrosis. When her health declined, Sheena was forced to give up work, and she found it harder to exercise. Her CF team told us how dedicated Sheena was to her health, and that she wanted to find a way to carry on exercising.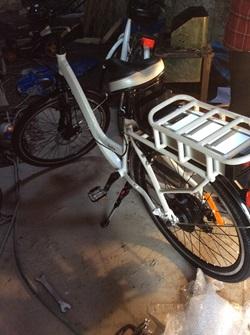 A £350 grant towards the cost of an electric bike (pictured) enabled Sheena to pedal when she could but allow the motor to take over when she needed to take a break because of breathlessness. She plans to gradually increase her pedalling time as she works on her fitness.
A happy Sheena wrote to us when the bike arrived, saying: "There's been great fun this weekend when my e-bike purchased with the Trust's grant arrived. I've been giggling like a school girl and loving going for a spin without the usual breathlessness. As well you'll know, some of us cannot work anymore, and there's no spare cash to fund big purchases like my e-bike. A great funding idea from the Cystic Fibrosis Trust."
Becky Kilgariff, Support Services Manager at the Trust, says: "We provide grants to help with the extra costs that cystic fibrosis can bring. Many people face unexpected costs, or struggle to fund household items or the costs of exercise, so we're here to help. Many of the things our grants fund – exercise equipment, gym fees, fridges to safely store medication and nutritious food – are key in keeping people with cystic fibrosis as well as possible.
"Thanks to our supporters, through health and wellbeing grants we aim to help people purchase the goods and services they need, relieving stress and worry, and helping them to stay well."
Find out more about health and wellbeing grants and apply for the July round.