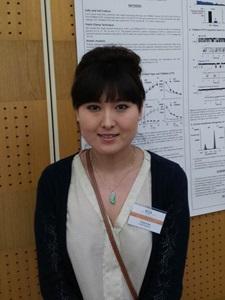 Yiting Wang (pictured), from the faculty of Biomedical Sciences at the University of Bristol has won the university's Best Doctoral Research Thesis award for her faculty. Wang completed her research with support from a research grant awarded by the Trust to her supervisor Professor David Sheppard. This grant examined chemicals that repair different faults caused by the F508del-CFTR defect.
Wang's thesis investigates the thermal instability of the F508del mutation in cystic fibrosis, and through this work she has developed a new test to measure the stability of individual CFTR proteins in cell membranes, while studying the impact Ivacaftor has on that stability.
Professor Sheppard, Wang's supervisor said: "Yiting richly deserves this award for her important studies of F508del-CFTR. They provide new insight into its stability defect and the action of Ivacaftor."
Wang was one of six University of Bristol postgraduates awarded prizes for their research degree theses. In the past she has been awarded best poster prizes at both the European Cystic Fibrosis Society Basic Science conference in 2013, and Physiology 2012, the main meeting of the UK Physiological Society in 2012.
Wang said: "I am delighted to receive this award. It has been a pleasure to investigate cutting-edge therapies for cystic fibrosis with Professor David Sheppard."
Donate now to support cutting-edge research like this.