Alice Martineau was born with cystic fibrosis (CF) and told she might not live to be 10 years old. She defied the odds and pursued her passion of singing and song writing. By 2002, Alice was on the list for a life-saving triple heart, lung and liver transplant. An article was published in the Telegraph where Alice spoke of the struggles of her condition, and soon after she was signed to Sony Music. Alice died in 2003 but lived to see her first album, 'Daydreams', released in November 2002.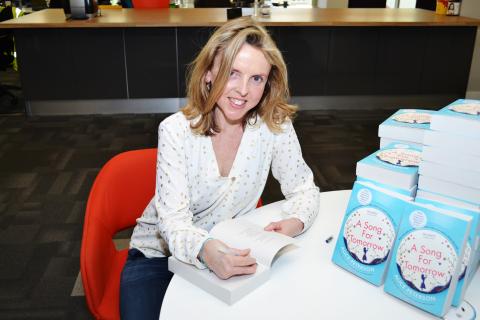 Alice Peterson first heard about Alice Martineau when she read an interview with her in 2002, and she was instantly drawn to her story. Many years after Alice's death, the author was inspired to write a fiction novel based on the singer's life, and after talking with Alice's family she started writing 'A Song for Tomorrow'.
In a Soundcloud podcast, Oli Lewington, Engagement Director at the Trust, spoke to Alice Peterson and Alice Martineau's brother Luke about the book and Alice's fight against cystic fibrosis.
"I think the best stories are the true ones."
When asked about her decision to write the singer's story as a fiction instead of a biography, Alice said: "I think fiction is my strength. I've written seven novels, and they're all based on true stories and inspired by real life, real people. I think the best stories are the true ones."
The characters in the novel are based on the people in Alice Martineau's life, and the writer researched her novel by talking to the singer's friends, family, doctor and boyfriend.
"You suddenly think to yourself, I don't need to make up a huge amount, because the material is so wonderful," says the author. "I'll never forget when Luke rang me because my legs virtually gave way. I thought, 'he's going to hate it'. And he just said 'Alice walks off the page'."
Luke and his family agreed to get involved in the project after reading Alice Peterson's books and hearing how passionate she was to write about Alice.
Luke said, "We realised we were in exceptionally good hands, and that Alice was going to handle our Alice's story with great sensitivity, and that something good was going to come out of it.
"It's quite odd, because it's not just a fictionalised version of my sister, it's a fictionalised version of me and my wife and my parents and all sorts of other people who reappear in the story in one form or another. So it's fascinating seeing it all.
"I think the most important thing is that the character is so true to her. That's the bit that really pulls it together for me. Because I know that when I'm reading the story I'm seeing a true picture of Alice Martineau."
"It's a really lovely way to celebrate Alice's story."
Sony Music is re-releasing Alice Martineau's album 'Daydreams' to coincide with the release of 'A Song for Tomorrow', and lyrics from her music feature heavily in the novel.
Alice Peterson said, "Because Alice's music is so beautiful, I didn't want to make up lyrics. We wanted Sony to work with us, and we wanted her music. Because it just wouldn't have made sense to make it up.
"I used 'Inside of You' and 'If I Fall' in the books, so Sony have written on the CD: 'With songs featured in A Song for Tomorrow'. It's a really lovely way to celebrate Alice's story. Not just for the book, but to get her music back out there again."
Alice Peterson spent time with people with CF and members of the Cystic Fibrosis Trust to find out about the different experiences of people living with the condition. She visited Tim Wotton, author of 'How I Cheated Death', Oli Lewington and Emma Lake, Community Manager at the Trust. She stayed at Emma's home for two days to find out more about her treatments and accompanied her on a clinic appointment. Alice told us what it was like working with people inside and outside the Trust and how it helped her to learn more about cystic fibrosis.
"Through Tim I discovered his passion for sport and his fierce discipline and determination to live as full a life as possible with cystic fibrosis. I went to Emma's house and she showed me her boxes and cupboards filled with meds, describing what every single inhaler and tablet did. I also heard her stories of how people shift to avoid her on a bus or on the tube, fearing they might catch her germs. Cystic fibrosis is often invisible, she explained, or because you are young people don't believe you can be that ill."
"It's so fulfilling to see this lovely, beautiful book..."
When asked what his hopes are for the book, Luke said, "I've had a lot of emotion invested in the whole project. I've always felt that I've been to some extent, along with my parents and other good friends of Alice, the guardian of her memory and her reputation, and I'm desperate for this to succeed.
"It feels a bit like unfinished business in a way – of course it was an amazing achievement for her to have got her record deal, but she died before she could reap the benefit of that success. It's so fulfilling to see this lovely beautiful book, and to know that hundreds of thousands of people, not even just in this country, are going to know about Alice Martineau, what she went through and what she achieved, and hopefully be inspired by her."
Alice Peterson's novel, 'A Song for Tomorrow' and Alice Martineau's album, 'Daydreams' are both available for purchase on Amazon.
Check out our Facebook Live video (below) of Alice Peterson's visit to the Cystic Fibrosis Trust for a live reading on 7 March.