Learning what matters at NACFC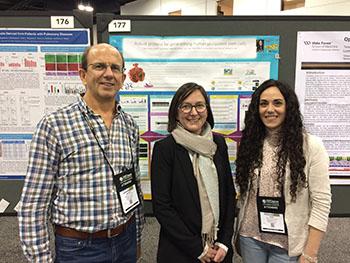 Prizes matter – and the CF community is helping scientists build careers
Vinciane: "Last March, I was awarded the first ECFS-NACFC poster prize supported by Bob Emmelkamp. Bob has been a fundraiser for the Cystic Fibrosis Foundation (CFF) for many years and after being invited to attend the NACFC a few years ago, decided to give a European early career researcher the opportunity to attend the NACFC. I feel very lucky to have been the first recipient of this award, which has given me the chance to meet amazing CF researchers and get feedback on my work."
Sara: "The unexpected opportunity to attend NACFC 2018 was given to me in September 2017, being selected to present my work at the Trust's 'CF's got Talent' event ¬– but mostly it's thanks to all of you from the CF community who voted for me as the winner of the competition."
Peers matter – conferences are vital for learning from the best, sharing knowledge and exploring opportunities.
Sara: "This conference gave me the opportunity to interact with people working in different aspects of CF, to obtain the most up-to-date picture of cystic fibrosis. It helped me reshape my role as a CF scientist to contribute to improving the life of people with cystic fibrosis. I was also able to present my work on a poster, receiving very positive feedback from scientists in the CF field, even some expressing their interest in offering me a job after my PhD!"
Vinciane: "For the past three years, my projects have been focusing on the regulation of pH in the airways and identifying ways to help rehydrate the mucus, thereby improving mucus clearance. The work I presented at NACFC received very positive feedback that will help me increase the impact of this work and get it published. I also hope that this will lead to further investigation for the development of non-genotype-specific therapies for everyone with cystic fibrosis, research that is funded by the Trust."
Diversity and depth matter
Vinciane: "NACFC had a hugely interesting program, often leaving us hesitating between the different sessions that were offered. I enjoyed the workshops, particularly the one on 'Novel approaches to modulate CFTR'. Speakers in this session presented new ways to improve the function of CFTR without targeting the protein itself. This included research showing improvements in the function of rare CFTR mutatons. I also really liked going around the posters and talking to early career researchers." 
Sara: "One of the highlights of the NACFC 2018 for us both was the plenary talk given by Prof. Felix Ratjen on anti-inflammatories and mucus clearance, as well as the statement by Dr William Skach from CFF: 'We expect having effective treatments for 90% of people with CF by next year.' The wide program offered allowed me to hear about the latest advances on new therapies including gene-editing and gene-therapy, as well as clinical aspects such as the lung transplantation process."
The CF community working with researchers really matters!
Sara: "From my experience, the most exciting and rewarding moments of the NACF conference were those where scientists and CF families got together around a table to discuss the views from both sides on how we should better approach every aspect of cystic fibrosis.
"I was lucky enough to take part in a roundtable discussion with scientists leading the gene-editing field describing how they envision the application of these new technologies, and parents of CF children discussing their wishes and concerns about the topic. The experience of sharing a table with the authors of my most read papers and parents telling us how they deal with the chronic illness of their kids, completely changed my view of the role that we all have in the fight against cystic fibrosis."
Vinciane: "In addition to attending the conference, Bob also invited the Newcastle group (Dr Mike Gray, Sara and myself) to a Science Appreciation Dinner where we had the chance to meet parents of people with cystic fibrosis. This was a very emotional experience that gives the work we do every day another dimension and also highlighted the importance of the communication between CF research scientist and the CF community in general, and parents of people with CF in particular."
*Pictured above: The Newcastle group at NACFC 2018 (L-R) Dr Mike Gray, Dr Vinciane Saint-Criq and Sara Cuevas Ocaña