Fundraising king of the Castle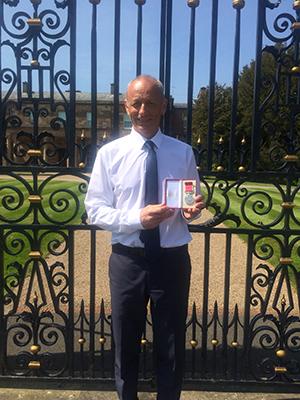 The grandeur of Hillsborough Castle provided a fitting backdrop as Liam McHugh collected the insignia of his British Empire Medal from Robert Scott OBE, the Lord Lieutenant of the County of Tyrone, at an investiture ceremony on Friday 13 May, in recognition of his dedicated fundraising work.
This year Liam ran his 15th marathon since his daughter Rachel was born with cystic fibrosis in 1992, which brought his fundraising total to nearly £130,000 supporting the Cystic Fibrosis Trust and helping to promote awareness about the condition.
Rachel and mum Eleanor were both on hand to see Liam receive his award at the historic castle.
Liam said: "I am delighted and honoured to have received this award. It's not only me that puts a lot of work in to this. My wife Eleanor who is always there by my side. She's always there keeping the fundraising accounts right and sending the money off to the Cystic Fibrosis Trust. The unsung hero in my eyes.
"Most importantly I hope my award can raise the much needed more awareness for cystic fibrosis that I feel is lacking but is gradually increasing as we get closer to our goal to try and beat CF for good. To think that people like my lovely daughter Rachel and all out there living with CF on a daily basis can have a much better life due to money raised going in to the Trust to better their lives keeps me going to help finish the job off. It's so important to keep the fundraising going. It can't be done without the funds."
Ed Owen, Chief Executive at the Trust, said: "This is a great recognition for Liam and everything he has done for the Trust. It's a thoroughly deserved moment for him and his family."
Next up, Liam and Eleanor are looking forward to attending the Queen's garden party at Buckingham Palace on 24 May, which forms the final part of the awards ceremony.
Inspired by Liam? Check out our great fundraising events and find the challenge for you!