Lifesavers' tribute unveiled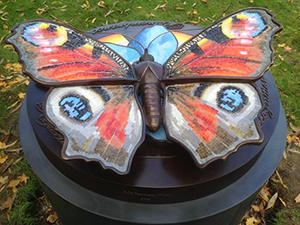 A sculpture paying tribute to the tens of thousands of organ and tissue donors who have saved lives across the UK has been unveiled by the Duke of Gloucester at the National Memorial Arboretum in Staffordshire.
Hundreds of relatives of organ donors and transplant recipients were at the celebratory event to see the Donor Family Network's 'Gift of Life', a colourful butterfly sculpture bearing the words "Reflection, Recognition, Remembrance" by artist Julia Hennessy-Priest.
The family of Keith Buckley, a former fire officer who sadly died last December, were there to commend his decision to become an organ donor. Daughter Jane Stubbs said "It's like he is living on, his legacy is still out there. It has helped us knowing that other people have benefitted from Dad's gift. It means something positive and good has come of out such a tragedy."
David Nix, chairman of the Donor Family Network, said: "We hope that this is a place where donor families can proudly remember the amazing gift their loved one made as well as a place that people whose lives have been saved by donors can pay tribute to the stranger who helped them."
More than 6,000 people are currently waiting for transplants in the UK, and one in three people with cystic fibrosis on the list will die before receiving the organs they so desperately need – a number that the Cystic Fibrosis Trust is working hard to improve. Signing up to become an organ donor only takes two minutes and could save more than five lives, as well as helping to improve many more.