Looking back over an extraordinary year: the 2020 CF Registry Report
Our 2020 CF Registry Report offers a fascinating snapshot into the lives of people with cystic fibrosis in the UK. In this extraordinary year, we saw that people with CF are living longer lives. As Cystic Fibrosis Trust approaches its own 60th birthday, there are now 145 people with CF over the age of 60 in the UK. For the first time, the median predicted survival age for children born today has surpassed 50 years. Other positive indications of improvement include a fall in the number of people requiring lung transplants, and less people needing a course of IV antibiotics.
Like much of what happened in 2020, figures in this report must be viewed in context of a year when the 'normal' rules of life did not apply. Because of multiple lockdowns and local restrictions, there were fewer in-person clinic attendances, reduced hospital admissions, more virtual appointments and slightly fewer annual reviews recorded. We report fewer cases of Pseudomonas aeruginosa, but this might be because it wasn't possible to do as many tests for it as in previous years.
Further, we report that 39.2% of the community received at least one course of IV antibiotics during this year. This follows a trend in reduction over the last 10 years, but the larger drop of 5.3% was likely influenced by UK government COVID-19 lockdowns and less respiratory infections circulating. The changes shown in this report will require further study to identify if these trends continue or not.
The impact of Kaftrio
One unequivocal positive in 2020 was the introduction of the modulator therapy, Kaftrio. Its availability was supported by the UK CF Registry which meant by monitoring its real-world impact, interim access was granted by regulators across the UK.
In the autumn it was rolled out to more than 2,700 people, and although it's too early to clearly measure the long-term impact, there are positive markers already that we hope to see report upon with firmer evidence in future reports. Vitally, the Registry data will continue to guide what types of research we need to concentrate on, especially for people who can't benefit from current modulators.
Making sure research studies ask the right questions
Five years ago, the Trust was a partner in a research project to find out the top health priorities of people with CF, as well as their families, carers, and CF teams. The priorities have been used by the Trust and other funders both nationally and internationally, to help us decide what research we fund; and by doctors and scientists to focus the direction of their studies. Much of the research inspired by this project is still ongoing and due to the nature of medical research it may take some years for the results of this work to be seen as making a real difference for people with cystic fibrosis.
However, we know that things have changed over the years and priorities might have shifted. We feel like 2022 is the right time to review the research priorities again. In January, we'll be asking you, our community to complete an online questionnaire to see if the top research priorities from five years ago are still relevant to you today.
We won't stop
As the median predicted survival age increases, we must focus efforts towards understanding emerging challenges and comorbidities that people with CF might experience in older age. 
The burden of treatment continues to impact people with CF, with more than 82% of people on at least one form of inhaled therapy – a timely reminder of why we won't stop until everyone can live without the limits of cystic fibrosis.
---
Cystic fibrosis (CF) is a genetic condition which causes sticky mucus to build up in the lungs and digestive system. It affects more than 10,600 people in the UK. One in 25 of us carries the faulty gene that causes it, usually without knowing. 
Your donations help us fund vital research. Donate today to help everyone with CF live a life unlimited.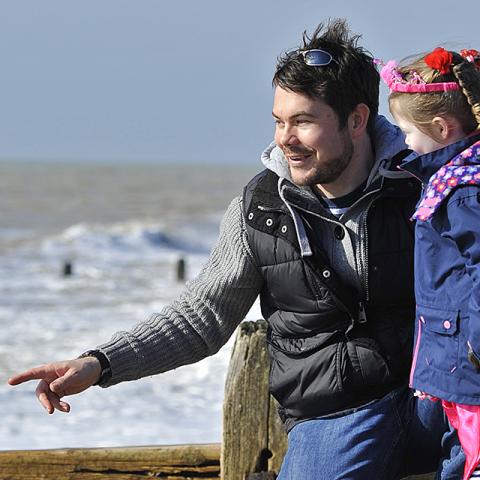 Our newsletter
Sign up to our e-newsletter for the latest news on what the Trust and our supporters are doing.