Meet Team CF: Kate's story
Finding a community in times of worry
Freelance social media consultant Kate and her husband Toby have two boys – nine-year old Dylan and five-year old Reuben, who has cystic fibrosis.
"When Reuben was diagnosed at three weeks old, I was sick with worry about what the future would hold for him," Kate recalls. "I knew that treatments and life expectancy had improved to 40, but that's still no age at all.
"I managed my feelings and worries for Reuben's future by talking with others in the CF community. I've ensured we are doing everything we possibly can to keep him fit and well, along with getting a group of parents of children with CF, family and friends together to form a fundraising group. Having this community and forming these friendships have helped me and our family so much to have a clearer picture of the condition, what life can be like with it through each stage of life and how to support one other."
Fundraising and fighting for hope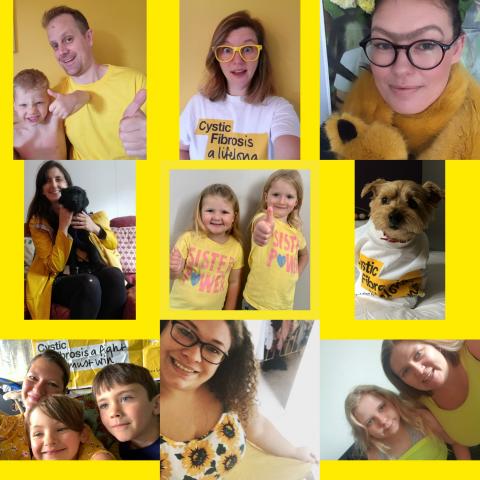 Embodying the Team CF spirit, Kate threw herself into the fight to beat the condition, helping make a difference for Reuben and thousands of others living with CF through a huge range of fundraising activities.
"I absolutely love fundraising and being a part of Team CF. The fundraising we do brings 
me and our family hope. By raising money for the Cystic Fibrosis Trust, I feel empowered by being a part of a larger movement, one that all has the same shared goal – to raise money to improve treatment and support for everyone living with CF, and ultimately find a cure."
The fundraising group she leads combines the efforts of members that have been fundraising for more than 20 years and others who are just at the beginning of their journey with CF and fundraising.
"I've achieved so much by starting this group with all the wonderful members we have," Kate says. "I want to thank all of the supporters of the group because without them donating prizes, attending our events and coming back year after year, our fundraisers wouldn't happen. We have raised thousands of pounds, raised awareness and brought loads of people together."
Hills, quizzes and a branded pie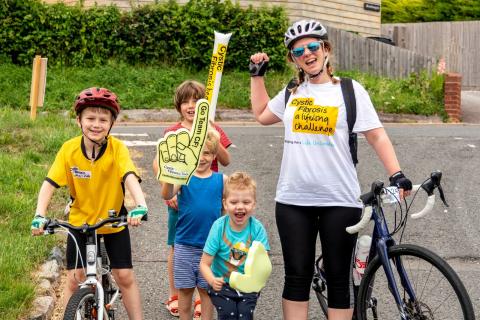 Kate, her family and friends have been a part of Team CF for a number of years. She took on the Surrey Hills 65 Great Strides in 2017 with fellow fundraising group member Carolyn, entered the South Coast Walk in 2018 and did the Tour de Berkshire in 2019 with her son Dylan.
When asked about her favourite fundraiser, Kate's a little torn!
"It is difficult for me to name my favourite, because I have enjoyed so many and would be happy to do any of them again!" she says. "One of the most recent ones that we did was our virtual quiz during lockdown. We had over 200 people take part, who made over 40-something teams across different households.
"People said they loved seeing other CF families from across the country who they would not have had the opportunity to meet or spend time with because of cross-infection, distance or work commitments. One woman, who has CF, baked a pie with our fundraising group initials on it, and I have to say I have never felt so proud and touched."
Being part of a family
One thing Kate has particularly enjoyed is the way fundraising – even virtual – brings the community together. "Being part of the CF community has been such a positive thing for our family," she says. "We have made friends with many wonderful people who understand what we go through each day and nothing is more empowering than knowing you have an army of people who have your back and are there to support you when you need them."
This year, Kate will be taking on the postponed Snowdon weekend trek for Team CF and continuing her tireless efforts to fight for everyone living with cystic fibrosis. As 2021 gets underway, Kate's spirit and passion are as strong as ever.
"The best thing about being part of Team CF is being part of a team, growing that team and knowing that we are making a real difference to people living with cystic fibrosis.
"The CF community are a family and, when our family fundraise, we do it for every single member of that family. We'll keep going until every single one of them has what they need to live a long and healthy life."
We'd love to welcome you to Team CF in 2021. Whether you run, cycle, swim, walk or even abseil, every effort counts. Sign up for an event or hold your own and help us fight for life unlimited by cystic fibrosis.