Michelle's story: cancelled plans, isolation and the kindness of others
I am now midway through the second week of self-imposed isolation with my family. I am the one in our household who has cystic fibrosis. The novelty of home schooling is starting to wear thin and we are quickly running out of food and medication. I have had to give up the gym, I have had to wax my own upper lip and I am craving chai tea latte. Just two weeks ago, things were very different.
On Monday 9 March 2020, I started packing for our family weekend away to Disneyland Paris. We were due to fly from Heathrow on Friday 13 March for a four-day Princess-focussed adventure. My daughter, who is six, was beyond excited. For several weeks she had been practicing phrases in French with my husband. She was learning basic French at home from YouTube and we had booked dinner with Mickey and friends.
On Monday, during my lunch break, I watched the news. I had been keeping an eye on the general advice regarding COVID-19 and had previously listened to the experts advising the television presenters that travel was fine, so long as travellers were cautious and exercised stringent hygiene. I was happy to go along with that. I routinely cover my surrounding environment with antibacterial, clean with alcohol wipes and wash my hands. I generally attract a lot of eye rolling but it has never bothered me.
I needed a holiday, so I was determined to get us there.
My mum had other ideas and she told me so. She regularly does that, despite my age. On the basis that she didn't get an easy ride with me as a child, I let her.
"The following day... the news took a more serious tone."
The following day, Tuesday 10 March, the news took a more serious tone. The live reports from Paris were worrying. I spoke to the medical professionals and decided not to go. I spent the next few days navigating the school run, the gym, working hours and the incredibly long calls with the travel companies arguing about my entitlement to a refund in exceptional circumstances. Fortunately, I'm particularly good at being persistent. By then I was able to quote the UKCFMA's guidance at them, which was really useful.
By Saturday 14 March most of Paris was closed, including the amusement park that we had looked forward to visiting so much.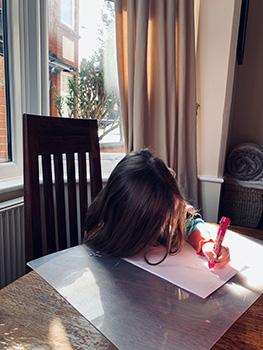 Over the weekend, it became clear that CF centres would be introducing remote consultations to avoid attendance in person. Further, my cousin, who is a GP and the most laid-back person I have ever met told me not to leave my house for the next month at least. Finally, the Government website that tracks the number of confirmed COVID-19 cases in each area identified the first confirmed cases within my postcode. At that point, it occurred to me that we were facing something that was actually quite serious. Having discussed my concerns, my husband and I decided to temporarily remove our daughter from school in order to eradicate the school run from my daily routine and to prevent her from contracting the virus and bringing it home. I was prepared for a stand off with the Head Teacher but having flooded the school's email account with information about CF, links to the Trust's website and the website of the CF centre to which I am registered, the Head Teacher was kind, sympathetic and as helpful as they possibly could be. Within a week the school was closed in any event.
Initially, our plan was to keep her away from school until the beginning of the new term. However, as I am now looking at a 12-week hibernation, we are revisiting that as a family. We don't yet know when she will return to school and will keep it under constant review. My husband has hibernated with me so far, working from home. If we are able to keep this up for the full 12 weeks we will do.
Whether we are able to will depend on the availability of food, medication and financial income.
"I am constantly touched by the kindness that we are being shown"
At the moment we have a great support network, with family and friends constantly getting in touch to see if we need food or medication delivering to our doorstep. I am constantly touched by the kindness that we are being shown but I am aware that twelve weeks is a long time and a lot can happen between now and mid-June.
It is strange being referred to as 'extremely vulnerable' and it's hard being so reliant on others.  My life is usually so structured and I am in charge. In times of crisis usually it is my instinct to jump in and be the one offering help. However, yesterday I received my letter from the NHS, so this extreme level of distancing is no longer elective. I'm listening and I'm thoroughly on board.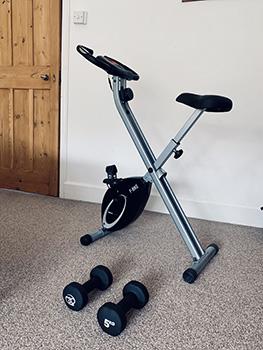 There is no denying that I am scared but I am doing my best to focus on the positive. Twelve whole weeks to spend with my little family. When would we ever get the opportunity to do that in our 'ordinary lives' without feeling guilty about it? The sun is starting to shine and I now have the time to enjoy my home. My husband and I have both been set up to work from home for a few years now, so doing so isn't quite the alien concept that it could be.
I have reactivated my account with Beam to ensure that I can keep up with the exercise and I have ordered a set of weights to make a home gym. I have also set up several WhatsApp groups so that I have access to the outside world without leaving my door.
The difficult thing is explaining our new norm to my daughter. I have family members who have started to experience flu-like symptoms, so yesterday I watched her have a chat with her Grannie through our living room window. When she had to say 'Goodbye' she put her little hand up to the window. She didn't cry but she needed an extra-long hug. I, on the other hand, am used to isolation. To me, this will be like an extended hospital stay, but in the comfort of my own home and with the people I love most. I'm going to count my blessings and enjoy our cocoon. I will hope from afar that the people I know and love are safe and well.