Natalie's marathon journey: part one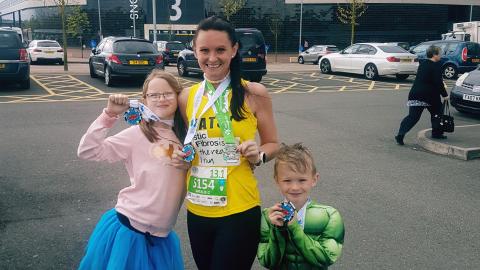 The beginning...
I am a 35-year-old CF athlete and mummy to Skye-Hope (a CF carrier) and Preston (with cystic fibrosis). They are the two most important jobs in the world to me because they remind me daily that I have beaten the odds and achieved my dreams.
I was diagnosed with CF at the age of 28, following a lifetime of misdiagnosed asthma, and a childhood in and out of hospital with recurrent chest infections. I was always the weak, frail girl through school, struggling to keep up, with poor attendance and a constant cough that wore me out.
I realised that sport was not for me and focused on my studies. Little was I aware exactly how beneficial it would be for my lungs.
Until my diagnosis I thought it was normal to cough up huge amounts of mucus up and to taste salty when I sweat! Teenage years were filled with more frequent bouts of pneumonia as I ventured out to smoky bars, unknowingly exposing my lungs to socialise.
My fight for a better diagnosis continued through to my first pregnancy in 2008, when my liver began to show signs of strain and I was given the diagnosis of cholestasis, a rare liver condition in pregnancy.
Skye-Hope was born prematurely but thrived and grew into a healthy little girl.
I picked up after the birth and went on to have Preston in 2011. The pregnancy knocked me further into decline as both my lungs and liver struggled to cope with the extra strain.
At my 20-week scan, Preston was diagnosed with meconium ileus - a blocked bowel. I was informed that this was a marker for CF and an amniocentesis confirmed that Preston had cystic fibrosis. Tests later confirmed that my unborn baby and I had the exact same mutations, and that we both had cystic fibrosis.
It was at that moment that time stood still, and my whole world crumbled.
Time to fight back
After going through the grieving process and understanding that these emotions were all normal, I decided that it was time to stand up and fight or let CF take us down with that one hard punch.
The first year of our diagnosis was the hardest. Dealing with the reality of CF, the everyday complications and getting to grips with watching my tiny baby boy endure things that most adults would squirm and whine at. He was born a fighter and from the very first moment I held him in my arms I could feel his strength. Watching the support and encouragement from his big sister would melt me, another strong little person who I knew would grow to protect her brother. I was determined to create a bond like no other for them, which would help us fight our battle as a team.
Shortly after Preston's birth I suffered another bout of pneumonia. As I began to decline I was told to face up to the reality of CF and the life expectancy that was likely. I refused to accept this, my stubbornness kicked in and I was not prepared to let CF come uninvited into my dreams of becoming a mother and all I had planned for my children and our future. It was time to step up and make a plan!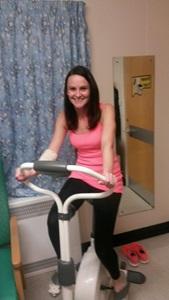 Weapon of choice
I spent hours and hours researching and after looking into the positive impact exercise had on the lungs, clearing the mucus which harboured the CF bugs, I decided that this would be my weapon against cystic fibrosis.
I joined the local gym and started to walk on the treadmill - it was agony as my lungs burned and I coughed so hard. I was always so sick afterwards! After a few months of increasing my pace and a gentle incline, I attempted a slow jog. I struggled to make the first 30 seconds but over time with the encouragement of the running coach, I built myself up to hold a minute jog which progressed into a slow run.
As I began to educate Aaron, the running coach, about CF and my desperate attempt to run, he agreed to help me beat the odds. A huge milestone had been reached. Preston had his first birthday as I ran my first 1km... I began training to use running as the tool against cystic fibrosis.
Hitting the road
The first challenge was a 5km. And most definitely the toughest. At no point in my journey has running been easy, but every run forces me to push past the pain barrier and mentally carry my lungs through to finish.
As I progressed, I moved from treadmill running to outdoors. The varied weather conditions proved challenging, the cold cramped my lungs and took my breath away. The hot cramped my muscles through salt depletion. I had to learn to adjust and train smart. I learnt the hard way with many things. I trained too hard and exhausted my body, I didn't hydrate enough or fuel correctly.
With the guidance from my running coach I quickly discovered that if I was to run like an athlete I needed to eat, rest and recover like one too. My calorie intake increased to 5,000 a day and as my weight stabilised and infections became fewer and further apart, I began to feel strong, adding in extra recovery days when my lungs told me they needed it.
I successfully ran in a series of 10km races and my times were improving. My lung function was creeping up and I felt ready to push harder. I was going to train for a half marathon.
Achieving goals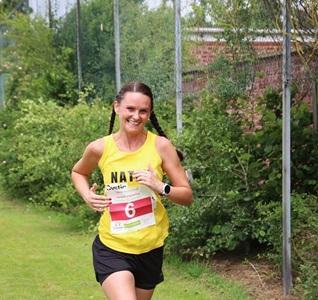 During training, I grew a nasty CF bug (Mycobacterium abscessus) which slipped me back into decline. I believed that running had given my body the strength and determination to fight this head on, so I continued training as I fought this bug and after getting the all clear in May 2016, I ran my first half marathon. This was always my end goal, I wanted to run to raise funds for and awareness of CF, which I did.
But in the year that followed I ran a further three half marathons. I was no longer that weak and frail little girl who sat in the library during cross-country. I was running strong in races with my children cheering me through the finish line. I had become their hero and an inspiration to so many. And I knew then that running would always define me, not cystic fibrosis.
Nothing is impossible when you work hard and believe. The odds are there to be beaten.
Next time: In part two Natalie talks about her training regime and getting ready to tackle a new goal - a marathon.
Natalie is running the Birmingham Marathon for the Cystic Fibrosis Trust – sponsor her here.