Natalie's marathon journey: part two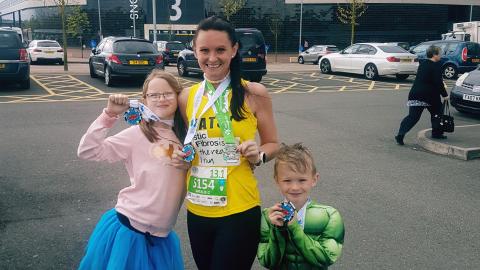 As you read this blog I am two weeks away from game day! Not sure why they call it game day as I always thought games were supposed to be for fun, and right now I am seeing no fun in running 26.2 miles!
This last block of training has been a great chance to reflect on the journey so far: the many tears cried on hill sessions, tackling the fear of jumping on the treadmill for speed sets, the guilt on days my children have begged me not to drag us all out of bed early on school holidays so I can get my long runs in, and their joy when my absolute exhaustion allows them 30 minutes extra screen time!
Marathon training has taken over my mind, my body and every area of my life. It has given me moments of pride as my Garmin beeps to alert a new record... faster times, longer distance and challenging hills.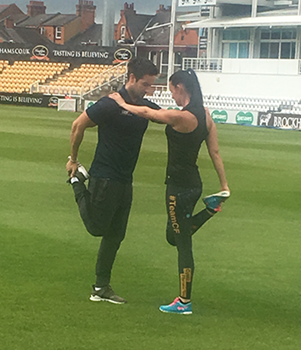 Pushing past my boundaries
Being pushed by Aaron (my running coach) past the boundaries that were set into a territory unknown by us both, we realised that excuses were not going to get me through that marathon. There have been moments of huge self-doubt, mainly due to the struggle of trying to rest properly as a mum with two energetic children, juggling their needs with the requirement of my body to rest.
I think one of the hardest battles as a parent with cystic fibrosis is the fatigue. Being faced with a marathon training plan alongside treatment regimes for both myself and my son Preston was enough to rock the boat a little! But once you change your perception of any situation, you can succeed. I saw this as an opportunity to teach the children that when we work hard to reach a goal and never give up, we get rewarded.
I wanted them to see how on the days when I was sick, I laced up my trainers. On the days when it was stormy, rainy and cold, I would find a solution...and a raincoat! When there is no one to help out so mummy can run, we don't take a day off, we train together!
Ticking off the miles
As training progressed, and the weeks were ticked off, so were the miles. I began moving up from holding a strong few weeks at 10 miles, confidently passing 13, 14 and 15 miles until final weeks reached 16 plus. This was when it really hurt, but I remained thankful to have the ability to reach such high distances and used my mental tool box to build a bridge over the pain and use each run as a stepping stone to my end goal.
In between my long runs I was adding in shorter tempo runs as well as training sessions with Aaron in the gym. He used anaerobic threshold training to push me harder and dynamic warm up drills that kept any potential injury at bay. Using reset breathing drills before and after my runs and training sessions really began to benefit my lungs and airway clearance became so much easier.
I grew to love the good pain of a soft tissue massage, which quickly freshened up my legs, as well as the foam roller, which I discovered was an excellent tool for opening up and easing the common CF posture and thoracic spine, where you feel quite like the hunchback (totally crippling after a long run!) My training was being carefully tailored to ensure my lungs dealt with the increase in mileage, as we increased salt tablets and calories even further and I finally began to notice weight gain!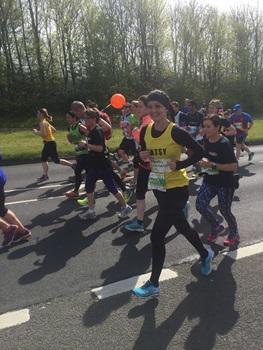 Then comes the blip...
Everything was going to plan as I added in a few extra races and another half marathon to mix up training. My CF team praised me for all my hard work and dedication to my health during my annual review and I was congratulated on providing an example to others by using exercise to improve my lung function.
The end was fast approaching with just my final long run of 20 miles to complete before taper (reducing my amount of exercise in the lead up to the big day). That was the moment in which cystic fibrosis chose to shake up the plan. I was suddenly reminded of the reason I was doing all of this. The reality of how quickly things can change. I suffered a dangerously nasty flare up of my liver and became very unwell. Training was put on hold and my marathon dream was questioned as I then caught a chest infection and tonsillitis. I saw it as a temporary blip and a wake-up call to listen to my body.
My hardest run to date
As I recovered I knew I was pushing it with the last few weeks and making the decision to run my final 20 miles would be a gamble. Still not being 100%, I risked not having the strength to fully recover in time for the marathon, but I mentally needed to clock those miles.
Feeling like everything was against me - the wind, the rain and the dampness in the air - I laced up my trainers and began my hardest run to date.
I had never felt so lonely as I battled the demons in my head that were constantly feeding me with negativity. My lungs cramped and I felt as though someone was ringing them out like an old towel as I threw up nothing but gunk from them. That was when I knew how just having a short time off running had already begun to clog up my lungs like a blocked drain.
My body itched as my liver began to protest the distance and my body trembled as my sugars dropped. But then inside my head I found that fight and I pushed harder, as I looked down at my lucky hair bobble around my wrist, given to me by the children, and I knew I had promised them that 20 miles!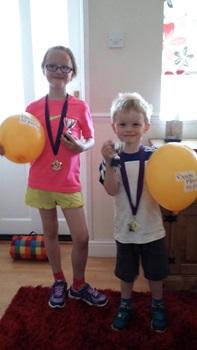 Showing CF how we play the game
The battle with cystic fibrosis is hugely mental, it camps out in your weak spots and tries to cloud the sunniest of days. Running a marathon is nothing compared to the pain, heartache and hurt those living with CF overcome every day. But it comes very close, and if I took anything from that 20-mile run, it was that training the mind to stay strong and not crumble under pressure is key to achieving my marathon dream!
My body may not be the strongest, but it sure is determined, and my mind will never allow CF to win, because that medal belongs to me, my children and all of my CF community, those who I will be running every step for on GAME DAY!
Time to show CF just how we play the game....
Next time: Keep an eye out for part three, where Natalie finally tackles her marathon challenge!
Natalie is running the Birmingham Marathon for the Cystic Fibrosis Trust – sponsor her here.