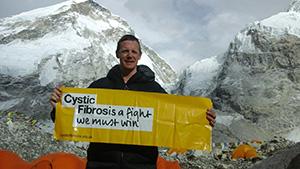 Friday 13th may be unlucky for some, but Nick and his team were thrilled to reach the summit of Mount Everest at 9.45 am local time, following years of preparation and two previous attempts, and weeks of grit and determination.
As well as completing this huge personal challenge, Nick, 40, has raised an incredible £77,000 so far for the Cystic Fibrosis Trust. Nick, an experienced climber who has a milder form of CF, said he wanted to "pay tribute to the thousands of people in the UK and beyond who climb a mountain every day battling cystic fibrosis", and praised the Trust's campaign to ensure that a transformational new drug for people with his genotype was made available on the NHS.
Vicky Bratherton, who as Philanthropy Manager at the Trust has supported Nick in his fundraising for the trip throughout the past three years of preparation, said: "We are so proud and utterly thrilled that Nick has finally made it to the summit of Everest in his 40th year; a particularly poignant age as only half of people currently living with cystic fibrosis are expected to reach their 40th birthday. What he has achieved is a huge milestone in the history of cystic fibrosis and demonstrates not only his own determination not to let his condition stop him from achieving his goals, but how far we have come in the development of effective treatments for this life-shortening condition. Congratulations Nick! We wish you and all of the team a safe journey back down to Base Camp."
It is a year since Nick's last attempt at the summit was cut short by the earthquake on Everest that devastated Base Camp. His journey has been captured by a team of documentary film-makers – watch the Breathing on Everest trailer.
You can read the team's blogs from throughout their journey, make a donation, or look back at the progress he has made on the Facebook page.
* Above - Nick carries the flag for the fight against cystic fibrosis, earlier in his Everest campaign.