Monday's debate – 60 MPs, heart-breaking stories and next steps
I was sat in the public gallery with representatives from both the Trust and the CF community – mostly parents of children with the condition. The room was crammed with an impressive 60 MPs, all there to represent the personal stories of their constituents. This is all thanks to the many of you who wrote to your MPs asking them to attend.
The debate was the result of a petition started earlier this year by parents Gemma Weir and Michelle Frank, which attracted a staggering total of more than 100,000 signatures in just 10 days. The overwhelming support for this petition truly demonstrates how the entire CF community and their friends and families have come together united to simply say: enough is enough.
Whilst protesters gathered outside, inside Westminster Hall 22 MPs shared the experiences of those who live with cystic fibrosis. Some of those stories came from a lucky few who have access to Orkambi and are thriving, but most came from those who are less fortunate and are still awaiting to access to the drug.
My story was one of many in the latter group. Ian Austin MP told of the deterioration of my lung function over the past two years since the drug was licensed. He explained that while many of my friends are getting married and starting families, at 35 I am instead potentially facing the end of my life as my health plummets, helpless to do anything despite knowing there is a drug that could help slow this decline. This was in contrast to Ian's own constituent, Carly Jeavons, who he explained had thrived since being on Orkambi through compassionate use, getting married and even starting her own business.
Unfortunately, my story does not exist in isolation – the debate highlighted the cruel reality for the thousands affected by this devastating genetic condition. Yet Orkambi is still not available here in the UK. The debate was a vital opportunity for the government to acknowledge and respond to this pressing issue.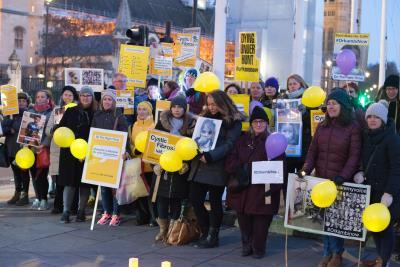 The key themes within the debate included MPs urging the Secretary of State for Health and Social Care to look at current NICE appraisal systems, and a strong call for government to look at the potential cost savings around implementation of the drug. However the key message many parliamentarians impressed was the urgent need for government to apply pressure on all parties to find a workable solution.
In his response, Health Minister Steve Brine MP said that "The government whole heartedly support efforts to ensure prescion medicines we have heard about are made widely available to CF patients" and that he agrees they should "get the same quality, safety and efficacy in medicines as those who have more common conditions" and that "there is more talking to do".
Referring to the statements from NHS England and Vertex last week around ongoing negotiations for a deal, he stated: "they weren't exactly encouraging, but they must not be the end of the story."
The minister summed up with a commitment to take the issue forward, saying: "I get the message loud and clear: the House has said 'get involved'. The House has that assurance from me."
It is vital that we continue to stand firm and united on this issue, not just to fight for Orkambi, but to ensure access to all future medicines too. To do that, we need your support now more than ever. You can read a full transcript of the debate.
You can follow up from the debate by writing to your MP and asking that they sign Ian Austin's cross-party letter to Jeremy Hunt and Life Sciences Minister Lord O Shaughnessy. Find out more.