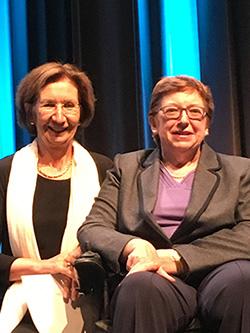 Professor Diana Bilton's outstanding contribution to our understanding of cystic fibrosis took centre stage yesterday when she picked up the European Cystic Fibrosis Society (ECFS) Award at the opening of the annual ECFS conference, in Basel, Switzerland.
The winner of this lifetime achievement award is invited to present a lecture at the conference's opening session, and after receiving her medal Professor Bilton took the audience through some of the developments in cystic fibrosis research she has seen during her career.
Professor Bilton graduated in Medicine from the University of Manchester in 1984, before taking up a Cystic Fibrosis Trust research fellowship at the Manchester Adult CF Unit. From there, Professor Bilton dedicated her career to the care of adults with cystic fibrosis, and went on to become Director of the UK's largest CF centre, at the Royal Brompton Hospital.
With research interests including new approaches to therapies for lung function, registry-based studies and trial design, Professor Bilton has authored over 150 peer reviewed papers. In 2014 the Cystic Fibrosis Trust announced a brand new Strategic Research Centre, led by Professor Bilton, exploring harnessing data to improve lives.
Professor Bilton said of her award: "I am honoured to accept this prestigious award. I have been very lucky to have worked with some true "giants" at every stage of my career, both in terms of the adults with CF and the multidisciplinary teams in addition to brilliant scientists. The advances I have witnessed represent the success of national and international team efforts."
Dr Keith Brownlee, Director of Impact at the Trust, expressed his delight at Professor Bilton's great achievement, saying: "We are thrilled that Professor Bilton has been chosen to receive the ECFS Award. Her research into cystic fibrosis has been indispensable, and she is as widely admired among the families who rely on the CF centre at the Royal Brompton as she is within the scientific and clinical communities."
The 39th annual conference runs until 11 June, and will feature a number of exciting talks and workshops on the issues facing cystic fibrosis research today.
* Photo shows Professor Bilton (right) with Professor Kris De Boeck, ECFS President, at the award presentation.