Registry data presents a bigger, older and diverse CF community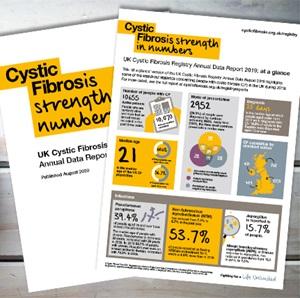 The report, drawn from data from over 10,000 annual reviews of people with CF in 2019, presents a snapshot of both the improvements in life with CF in the UK and the challenges still facing people living with the condition.
Trust Chief Executive David Ramsden said: "The insights included in this report are an important view into the evolving world of CF at what we may come to see as a landmark year for many in the community.
"For the first time the median age of people with cystic fibrosis has reached 21 years. This is still far too young – the average age of the general population in the UK is approximately 40 years – and shows that we still have much work to do."
The teenage years for people with CF continue to be a time of vulnerability, with a drop-off in weight and lung function during this period, underscoring the importance of the Trust's continued commitment to engaging and supporting young people through its Youth programme.
A new ethnicity section in the report reveals the diversity of the CF population since 2009.
The Annual Report is a fundamental tool for supporting CF care and research, as well as evidence for pharmacovigilance studies exploring the real-world impact of new treatments.
Rebecca Cosgriff, Director of Data and Quality Improvement at the Trust, said: "The information in this report will provide opportunities to improve the lives of people with CF now, and support essential breakthroughs in the future.
"The UK Cystic Fibrosis Registry team would like to thank people with cystic fibrosis and their families for their support, as well as anyone who has generously donated to the Cystic Fibrosis Trust and help make this work possible. We would also like to express our gratitude to the UK CF centres and clinics, for their continued dedication to obtaining consent and submitting data to the Registry."
Read the 'at-a-glance' version or the full report. 
Keep up to date with all the latest news from the world of CF and the Trust with our newsletter.