Researchers develop tool that lights up around Pseudomonas
In a clinical first, 'cell-free biosensors', designed by Professor Paul Freemont and his group from the Department of Medicine, were used to test samples of sputum from people with cystic fibrosis.
What are biosensors?
Biosensors are designed to detect changes in their environment, such as the presence of chemicals, or changes in pH or temperature. They can be used to quickly spot chemical traces of active microbial colonies of Pseudomonas in samples from the lung and could help to accurately diagnose bacterial infections in vulnerable patients.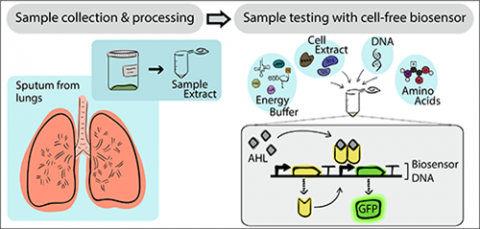 In a small, proof-of-concept study, the team found that their biosensors could accurately detect Pseudomonas – a bacteria that infects almost two in three people with CF by young adulthood and is one of the leading causes of chest infections in people with the condition. They also found that their tests were as sensitive as existing chemical diagnostic tests but could potentially be cheaper and easier to use.
In the latest study, published this week in the journal ACS Synthetic Biology, the team have reported on using the cell-free form of the biosensors to test clinical samples for the first time. Instead of being contained within the membrane of a cell, the biosensors are free-floating in a solution.
Samples taken from the lungs of patients, either with or without P. aeruginosa infection, were screened by adding them to tiny wells containing solutions of the biosensor. After four hours, the samples were tested for green fluorescent protein – a sign that the bacterial signature was present.
(Image provided by Imperial College London)
Global potential
The researchers are hopeful they could eventually develop their cell-free sensors into a range of rapid diagnostic tests which could be used either at home, in GP surgeries, hospital clinics or even in remote areas of the world with limited access to hospital diagnostics, at a fraction of the price of existing tests.
Principal Investigator of the Pseudomonas SRC, Professor Davies of the National Heart and Lung Institute at Imperial College London and an honorary consultant paediatrician at the Royal Brompton Hospital said: "Pseudomonas is the major infection in patients with cystic fibrosis and is closely linked to the severe lung disease which develops over time leading to premature death.
"At the moment, we only have opportunities to detect infection when patients come to clinics, perhaps every two to three months. A point of care test could transform the way in which we monitor patients, allowing us to treat early and personalise therapies. The establishment of our SRC enabled us to strengthen our links with non-clinical teams working on novel technologies to address this major problem."
Taking technology forward
The group is now exploring how to take the technology forward and develop working prototypes, as well as a test to detect the signal in a patient's urine. If the biosensor solution could be freeze-dried, this could even potentially take the form of a credit card-sized paper-based test, which would be affordable and ready for use in the field.
Loren Cameron, one of five PhD student funded by the Pseudomonas SRC and one of the study authors, said: "Now we have shown these types of biosensors can be used with clinical samples, the next step is to refine our approach. We hope that in future, tools like this could be used to help test for the presence or severity of bacterial infections."
Paula Sommer, Head of Research at the Cystic Fibrosis Trust, said: "It is incredibly encouraging to see that the research we are helping to fund is at the forefront of innovation in detecting bacterial infection. The work of the team at Imperial could have a huge impact, not just on people with cystic fibrosis, but on bacterial detection overall."
You can read the paper, 'A cell-free biosensor for detecting quorum sensing molecules in P. aeruginosa-infected respiratory samples' by Wen, KY, et al. in the journal ACS Synthetic Biology.
Please donate today to continue to support ground-breaking research like our SRCs.