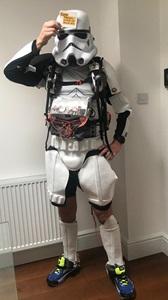 Yesterday, endurance runner Chris, 47, donned the famous white science fiction outfit to begin the Marathon Des Sables, an epic ultra-marathon, which he is running to raise money for the Trust.
To complete the arduous, week-long event, he needs to run 254km over six days in searing 50-degree desert temperatures, but Chris' storm trooper helmet and specially-made costume are tailored to ensure he can run in extreme temperatures. The helmet alone weighs 2kg and wearing it raises Chris' heartbeat by 15 beats per minute.
Chris has run the Marathon des Sables twice before – once in 2014 and once in 2016 – and decided to take it on again this year and raise money dressed as a storm trooper as his cousin, Tammy, has cystic fibrosis.
He said: "This really is an epic challenge and to complete it in a storm trooper outfit is no mean feat. But it will be worth it as I will be raising money for a very good cause. The Cystic Fibrosis Trust work hard to improve the lives of people with the condition and to fund medical research.
"I have been training hard since the start of 2017 to make sure that I am not only fit enough but so that I am completely equipped mentally for the challenge. I do joke with friends that – to coin a phrase from Darth Vader – if anyone thinks I won't make it that I find their lack of faith disturbing, but seriously this is a real endurance event and you need to train hard and make sure you are fully prepared."
Anne Shinkwin, the Director of Fundraising at the Cystic Fibrosis Trust, said: "It is amazing that Chris will run such a challenging event for the Cystic Fibrosis Trust. On behalf of the Trust, I want say a huge thank you to Chris for taking part this in this. His phenomenal efforts will certainly help us in our mission to fund research into cystic fibrosis and campaign to improve the lives of those with this terrible and life shortening condition. We wish him the very best."
Inspired by Chris' challenge? Choose from one of our fundraising events and help us fight for a life unlimited by cystic fibrosis.