Running for a life unlimited
The Cystic Fibrosis Trust is thrilled at the dedication of 170 people who will be running 26.2 miles through central London at this weekend's marathon.
Among those runners are people with cystic fibrosis, Trust employees and families and friends affected by the condition; most will be wearing branded t-shirts to catch the attention of the Team CF cheer crews. However, two runners have opted for something a little more unusual and will be taking part dressed as Batman and Robin.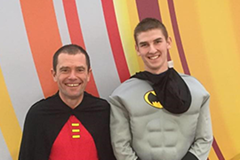 Joe Pope and Paul Jacobs, who have raised more than £6,000 for the Trust, said: "We feel that all people with CF are superheroes hence the outfits, and we wanted to really push the boat out to make our fundraising efforts well heard. One of the key reasons we wanted to do a duo (Batman and Robin) is to illustrate the twins we know battling CF and help CF to stand out even more."
Christie Hyland, Event Coordinator at the Trust, said: "It is absolutely fantastic that so many people have joined Team CF and taken on such a big challenge to raise funds and awareness for us. Everyone running is passionate about helping to fight for a life unlimited by cystic fibrosis and every year we are overwhelmed by the support we get from participants and their friends and families. 
"Good luck to everyone running, we can't wait to cheer you on to that finish line!"
If you're feeling inspired there are lots of ways to get involved - including cheering on the runners on the day at one of the Trust's 17 cheer points, including one at mile 23 with a samba band. You can find plenty of marathons to take part in, or start small with the Dulwich Fun Run.
It is absolutely fantastic that so many people have joined Team CF and taken on such a big challenge to raise funds and awareness for us. Everyone running is passionate about helping to fight for a life unlimited by cystic fibrosis and every year we are overwhelmed by the support we get from participants and their friends and families.

Christie Hyland