Meet Sangeeta, our new Welfare and Rights Advisor
Tell us a bit about your role?
I was recruited mainly because the Trust was anticipating a lot of work around Personal Independence Payment (PIP) and they were right - I've been inundated with enquiries. I get a lot of enquiries about Disability Lving Allowance for children, and other benefits enquiries as well.
I spend my day sending emails with practical advice and ringing people back to make sure that they know what sort of steps I can take them through. I was trained at Citizens Advice Bureau so I take them through the action centred advice model – we look at where they are, where they want to be and how to get there. But my experience is very broad in welfare benefits, so I can help with any benefits or rights-related queries. The second part of it is to influence policy, using client experiences to make sure that we can inform wider policy and get the Department for Work and Pensions (DWP) and the Government to take on board what we're saying.
How have the first few months been for you?
Massively exciting! I'm learning absolutely loads. I don't come from a background where I knew anything about cystic fibrosis so I've had to learn a lot about that, but there's loads of experts around so I've tried to talk to as many of them as possible. I'm finding the Trust quite innovative and creative, people are really receptive to new ideas and new ways of working.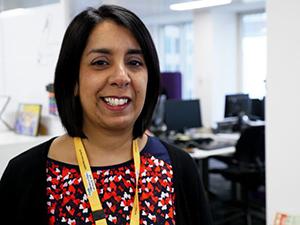 Why is the service you provide particularly important to people with CF compared to other conditions?
I think the difficulty with trying to squeeze cystic fibrosis in to different boxes is that it's an invisible condition. People are quite private about it, they don't want to bang on and let everybody know about it and I think for that reason there's not a huge understanding within the DWP about what it really is and how it affects people.
I think what people are faced with is that sometimes they look really well, they can exercise, and it doesn't fit very easily in to the benefits system. The thing people with CF tell me is that they have a difficult time trying to keep themselves well and out of hospital. Sometimes they are really well and sometimes they're really, really poorly, and when the condition fluctuates it's quite difficult to be able to present how it affects you to someone else. They are getting stuck when having to fill in forms and answer questions and present their condition, and I think they're getting judged as to how they might look on the day.
 What are the biggest challenges faced by people with CF when it comes to PiP and benefits?
 A lot of people with CF do work, and want to work, so they want to be able to fit themselves in to a benefits system that suits their needs, and the system isn't really flexible. I think the particular descriptors for PIP are very black and white and it's really hard to show that the condition can tick some of the boxes. However with support and guidance people can see where they may be able to fill the criteria, and then they feel more positive.
 There's a lot of stuff in the media that makes people feel ashamed for claiming, and there's a lot of misconceptions and a lot of fear. When people come to us they often feel embarrassed to ask for help and even if they're struggling financially they don't really want to take that jump because claiming benefits is a big intrusion in to your life – you have to say everything about yourself to a relative stranger.
What interested you in coming to work at the Trust?
I was looking for something to really get my teeth stuck in to and I like the way this role combines helping individuals and at the same time helping influence policy work and things like lobbying and working with the policy teams. Also, I was looking to combine my career and have a bit more balance at home with my children, so with home working it's absolutely perfect for doing to the two – I log on at 8.30am and finish at 4.30pm and I can make tea, I don't have to miss football matches, that kind of thing.
Do you have a claim to fame?
I wish I had claim to fame, but I'm married to a musician so he has claims to fame! Through him I can have a little dabble in that. The only time I've ever been in the company of anyone famous was when I was lucky enough to go to the Elbow Christmas party – and Elbow are so cool! My husband was on tour with them at the time so they were having a small Christmas party for their family and friends.
What do you like doing away from the office?
I love eating and I love walking, because you've got to work off the food don't you? I've just been to the Lake District with my family, and when I'm not with my children I like going around art galleries, but that's like once a year or something. I could just spend hours doing nothing there. And I sing as well, I'm in a choir. They do a variety of different stuff like Gareth Malone does and it's really fun!
I was looking for something to really get my teeth stuck in to and I like the way this role combines helping individuals and at the same time helping influence policy work and things like lobbying...

Sangeeta