School accused of discrimination after cancelling student's trip because she has cystic fibrosis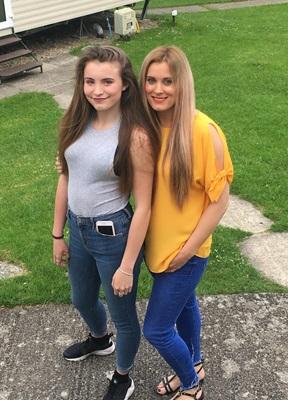 Jess' mum Helen (pictured right with Jess), who works as a diabetes nurse, said the school took the decision because Jess needs a nightly insulin injection for her CF-related diabetes. Jess' parents started paying for the trip in October last year, and told the school in May that Jess needs her nightly injection, adding that she was currently giving her this as her daughter is scared of needles, but was teaching her to self-administer.
Helen said she agreed with the school that Jess needed to be able to self-administer her insulin by at least one week before the trip, with a deadline set for Monday 25 June. Helen, emailed the school that Monday morning to say that Jess had started to administer her injections herself, but one day later, the family were told Jess could not go.
Heartbroken
Helen said: "This is so unfair. Jess is heartbroken, she was looking forward to going on this school trip and is devastated all her friends have gone without her. She has been crying since she heard the news. It is terrible."
Helen immediately set up a meeting with the school and her daughter's specialist CF and diabetes nurses, who told the school it was safe for Jess to go and arranged for her hospital consultant to email confirmation from her hospital. This explained that CF-related diabetes is not the same as type 1 diabetes, which can lead to urgent hospital treatment if you fail to take insulin, and that Jess takes her insulin to help her in the long term and would not suffer any ill effects or need hospital treatment if she did not take it during the five-day trip.
But this advice fell on deaf ears as it emerged the school had already cancelled Jess' ticket on the Monday without contacting her parents.
Learning from their mistakes
Helen said: "The teachers on the trip did not want to have to give Jess any medicine whatsoever and said that due to her age it would be her responsibility, not theirs. I totally understand that, but when we did all we could to prove it would be safe, they still refused.
"This has been awful for Jess and while she has missed her trip I want to make sure that they learn from this and don't do this to any other child who suffers with cystic fibrosis or any other invisible illness. What seems so unfair is that we told them Jess was now injecting her own insulin and they still cancelled her ticket without telling us or even consulting with us about what, if any, dangers there were if she failed to take it."
Helen has now made an official complaint to the school on the grounds of discrimination
Ignoring medical guidance
Helen said: "They would not accept anything we said or any medical guidance, which shows a lack of regard and ignorance for Jess' condition. What I find really heart-breaking is that Jess told me she understood their decision and would not want the stress and anxiety herself if she was a teacher. That really upset me.
"Why should my daughter have to feel that way? She is a normal, loving and happy child and I want her to enjoy her life and her time at school."
Dr Keith Brownlee, Director of Impact for the Cystic Fibrosis Trust, said: "It is very upsetting to hear that Jess was told at the last minute that she was being left behind while all her friends went on a school trip.
"It seems that the school have disregarded medical guidance on CF and need cystic fibrosis-related training provided by their employers. There is no reason for a school to treat children with CF differently from other pupils."
If you or your child has faced discrimination at school, or to find out more about the rights of children with cystic fibrosis at school, take a look at some expert advice or explore our recommended resources.