Shameless Seamus bares all for the Trust
Cheeky fundraiser and supporter Seamus O'Dwyer will be hoping for warm weather on 29 May when he will be supporting the Cystic Fibrosis Trust by jumping 14,000 feet from an aeroplane - naked!
The Trust organises regular fundraising skydives throughout the year, as well as abseiling and zip wires, but this may be the first time that a supporter has taken part without their clothes on.
Seamus said: "A very close friend of mine's nephew was diagnosed with cystic fibrosis at only two weeks old and we found it hard that we couldn't do more for them at the time. 
"Let's just hope it's not too cold up there!" 
Friends Leigh and Terri (Elliot's mum) will also be jumping, fully clothed, and Seamus' employer Aston Martin is providing them with a vehicle to arrive at the event in to show their support.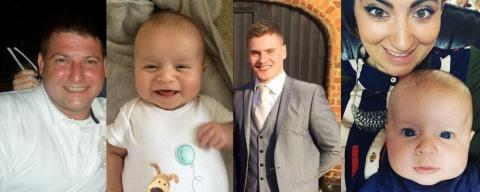 The fundraisers and their inspiration: Leigh Waterhouse, baby Elliot, Seamus O'Dwyer and Elliot again, with his mum Terri Deegan.
I really want to do this, not only for little Elliot, but also if by completing the jump I can help other people who have cystic fibrosis gain a brighter future it will all be worth it.

Seamus O'Dwyer