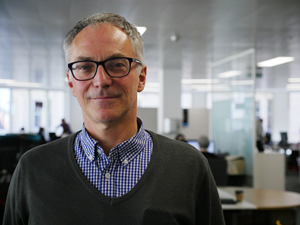 Professor Stephen Hart at UCL Great Ormond Street Institute of Child Health, has completed part of his research into a new treatment for cystic fibrosis (CF), funded by the Cystic Fibrosis Trust and Action Medical Research. The two-year project highlights how the Trust's Venture Innovation Awards (VIAs) bring external funding into the field of CF research.
Professor Hart's research aims to develop a new type of therapy to protect the lungs of people with CF from dehydrating, which would mean thinner mucus and fewer infections. This project allowed the team to identify the best way to transport nanoparticles containing the treatment to the lungs to prevent dehydration.
The overall goal is to produce a medicine that people with CF inhale as a mist, with the treatment ultimately resulting in less coughing and easier breathing. Years of development and testing for safety and efficacy are required, but this work is a promising addition to the range of drugs in the pipeline to treat cystic fibrosis.
Director of Research at Action Medical Research, Dr Tracy Swinfield, says: "We're very pleased to be able to partner with other charities, like the Cystic Fibrosis Trust, and to identify through our peer review system projects like these which can lead to better treatments for children." 
Janet Allen, Director of Strategic Innovation at the Trust, said: "It's inspiring to see how our Research Strategy is coming to fruition. The VIAs are designed to ensure that the Trust's funds go further by partnering with research charities like Action Medical Research to jointly fund a project, bringing in expertise and funding from organisations with wider remits than CF, and this is a perfect example. Thank you to Stephen and his team for the hard work and dedication required to meet this milestone; we can't wait to follow their progress over the coming years."
Find out how there' still time to to put your New Year's Resolutions to good use and support work like this.