Stuart's virtual running challenge
Our Team CF Running Festival gives everyone the chance to participate, whatever your ability, availability and location. Join Stuart and our other Team CF runners this September and help us raise vital funds to fight cystic fibrosis.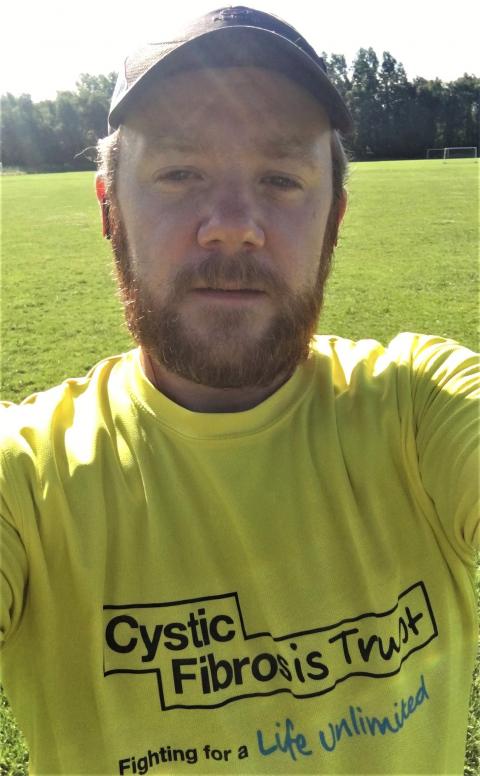 I got into adventure races and running to help give me focus. I've gone from a 10km race up to a 152km Ultra Adventure Race, to a triathlon up to a half Ironman, all in the last four years. My determination comes from seeing the way that my four-year old daughter Leah deals with her cystic fibrosis (CF), and keeps me going when I feel like stopping in a race.
Each year, I usually write myself a plan of the events that I would like to enter, and this year was no exception. However, as things unfolded, I had two of my events cancelled and realised the year was not going to happen as I imagined it.
When lockdown started, I didn't go outside our garden for about three weeks. I didn't feel comfortable at all, and the risk of bringing something back to the house played on my mind so much that I hardly did any exercise. I didn't even feel comfortable going for a run on the pavements.
One day I took our dog for an early morning walk on the football pitches across the road from our house. It felt comfortable – no gate to go through and an open space with maybe one or two other dog walkers. A few days later I motivated myself to go for a 5km run, and then started running more regularly. I then decided to sign up for the Wild Atlantic 500km Virtual Challenge: a 500km virtual challenge that can be done from anywhere in the world.
Making it your own event-day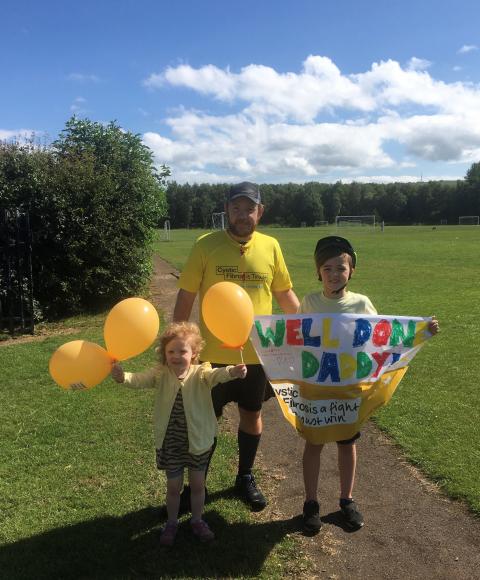 Taking part in this event was hard compared to the typical 'event-day experience'. There isn't that feeling of the crowd at the start and finish line, but you can make this yourself with your friends and family. I had my support team at the finish line: my wife, my son Jake and Leah – my biggest supporters –who made a banner and had balloons for me. I don't usually have people at the finish line at the events I go to, as most of them are in Donegal and my family is at home in Belfast, or they start early and it's hard with two young kids. Because it was virtual, the finish line could be where we wanted it to be, with the people I wanted to be there.
The event I took part in set up social media pages for participants to share photos of where they were running, and a Strava group for people to share their progress. I have a few Strava friends from this event now, and have seen parts of the world that I would never have seen pictures of before. The beauty of virtual events is that people can take part from anywhere in the world and the support is still there, if you interact with the people taking part."
Keeping motivated
I never thought I would be able to run 500kms in 20 days, with a rest day in the middle - I'm not even sure how I managed it to be honest. I was amazed that I was able to push myself beyond what I ever thought I could do and not give up.
I am quite a motivated person anyway but there was no bigger motivation for this event than doing it for my daughter. There were days I didn't want to go out for a run but then I'd think about why I was doing it, and seeing the donations come in and messages of encouragement kept me going. There's no bigger motivator than something that's close to your heart.
If you feel yourself wanting to give up, just remember why you're doing it. The thought will disappear very quickly, and you will get through it.
Sharing advice
I ran around football pitches every day for 20 days – sometimes running up to five hours a day! – so just listening to music didn't always keep me going. A friend recommended some podcasts: some questionable, but all entertaining, and there are some inspirational ones out there if you search for them.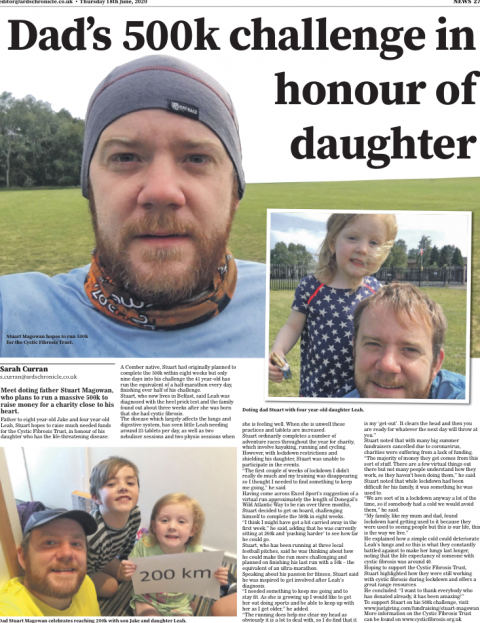 Remember to look around you when you're running, and don't look down at your feet or the ground all the time! You'll be surprised what you actually notice compared to if you were driving down that same road.
Social media is amazing for raising awareness of what you are doing. Keep everyone up to date with your progress and get friends to share your posts. Contact your local paper with a write up and photos and see if they will run your story; local papers are interested in feel-good stories at the moment, and everyone loves to see people doing something for a charity and to help people. A relative helped get me a spot on a radio station and a full write up in a local newspaper, which gave me a big boost in donations. It was amazing how generous people were.
Supporting people with CF
It is a very tough year for all charities, with a big portion of the money raised from sponsored events like the London Marathon and other events being cancelled – so why not get the family involved and take part in a virtual event? People will still give money to charity, and you can start and finish your virtual event at home with your family supporting you.
Although I've only just finished the Wild Atlantic challenge, I have signed up to run a half marathon in the Team CF Running Festival this September as I wanted to show my support for this event that the Trust have put their efforts into creating. Even if I only raise a couple of quid, I know it all helps!
Feeling inspired? Join Stuart and our other amazing runners this September and sign up to Team CF's virtual Running Festival!