Sun, sand and six (marathons)!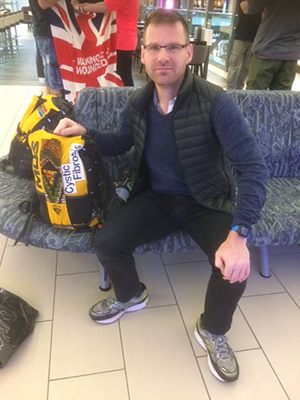 Richard Atkins, 39, is attempting to run six marathons in seven days, battling temperatures in excess of 45 degrees, inspired by his niece, Flora, who is two years old and has cystic fibrosis.
Joined by his friend, Justin, the pair will power through the 'Marathon des Sables'- a whopping 257km across the Sahara Desert, to raise money for the Cystic Fibrosis Trust.
Richard said: "I turn 40 this year myself, and to think that this is such a pivotal age for someone with cystic fibrosis shocks me. I've never done anything of this scale before, but the support and fundraising has been incredible. I really hope that this will be able to make a real difference to the lives of Flora and others."
Hot and cold
Richard's fundraising, including a 100km run in Antarctica, has so far raised over £11,000 for the Trust's vital work.
Claire Phillips, Community Development and Fundraising Manager at the Trust said: "Richard's challenge demonstrates an absolutely outstanding dedication to his fundraising and we wish him the best of luck with it. Running a marathon is an amazing achievement, but six of them across the desert is incredible.
"His fundraising has raised a phenomenal amount and we are extremely grateful to him for choosing to raise money for the Trust. Money raised through this challenge will enable the Trust to invest in cutting-edge research to develop treatments and life-changing therapies for people like Flora, so that everyone born with cystic fibrosis can look forward to a new future with a life unlimited by their condition."
You can help Richard and Justin to raise even more money to help beat cystic fibrosis for good. Feeling inspired? Check out the Trust's fundraising events, from fun runs and abseils to marathons and night cycles.