Sybil sees in 90th year with British Empire Medal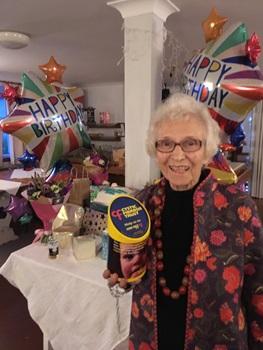 Since the time of writing this piece, Sybil's health sadly deteriorated soon after the ceremony and she passed away. Son Andrew, speaking on behalf of the family said: "We are all so proud of her. She deserved the recognition from the Queen and was in absolutely sparkling form for the presentation.
"Sadly her condition deteriorated soon after the ceremony and she passed away at my brother's home in St David's where she had been cared for so beautifully by Chris and Katie in her final weeks, supported by family members and her dearest friends Marion John and Alan and Beth Robinson. She had her two boys by her side.
"Her passing was terribly sad, but she had a life that was totally fulfilled and she left nothing undone. None of us will forget the fabulous occasion when she was presented with her BEM award and the sheer joy she had from being surrounded by the people closest to her.
"She had lived her life to the full, and was always on the go doing something, whether it was her work, the CF branch or plotting foreign travel to visit such places as the Great Wall of China or Santorini.
"She supported the arts, both locally and nationally, with opera being one of her greatest loves. A visit to the Royal Opera House in Covent garden was an annual must in her diary."
Sybil became the founding secretary and then chair of the Pembrokeshire branch of the Cystic Fibrosis Trust 40 years ago after meeting a family in her role as chief reporter with the Western Telegraph newspaper. Sybil was approached by Grace Lloyd, the mother of 14-year-old Mark, who was the oldest of seven people in Pembrokeshire diagnosed with CF at the time.
Mark was born in 1964, when the Trust had only just been established. At that time, the majority of people born with CF died in childhood, and Grace offered support to other parents who were facing this terrifying diagnosis. Thanks to developments in care and new treatments, Mark lived to see his 40th birthday, leading a full life and holding down a job right up to his death in 2004.
A life-changing moment
Meeting Mark and his family was a life-changing moment for Sybil, and she threw herself into growing the Pembrokeshire branch and fighting on behalf people with the condition and their families. As more local cases of CF were diagnosed, the Pembrokeshire branch grew, and thanks to the hard work of the branch and local families, improvements were made to the local CF service and a more local CF clinic was founded so that people with CF wouldn't have to travel to Cardiff for treatment.
Over the years Sybil and the rest of the Pembrokeshire branch have raised hundreds of thousands of pounds, making a massive contribution to the work of the Cystic Fibrosis Trust and the lives of people with CF across the UK.
A life on the campaigning trail
As well as her commitment to supporting the branch, Sybil has taken part in many sponsored events over the years, including an abseil, numerous walks and even a trek up Snowdon when she was in her mid 80s.
In addition to her mammoth fundraising efforts, Sybil offered her support to bereaved parents and arranged memorial services to remember those who had died.
Serious ill health has threatened to derail Sybil's extraordinary energy in the past two years. She was diagnosed first with breast cancer and then with lung cancer in the space of six months. Despite her own health issues Sybil continues to put people with CF and their families first, and she is still on the campaigning trail.
Andrew said of his mother's award: "She's absolutely delighted with the award and it's given her a real lift."