Team CF runners go virtual
Coronavirus (COVID-19) may have cancelled our usual events, but our fight for a life unlimited by CF continues. You can run for Team CF and join runners like Steven and Donna by signing up our first ever virtual Running Festival this September, and help us raise vital funds to fight cystic fibrosis.
Steven's story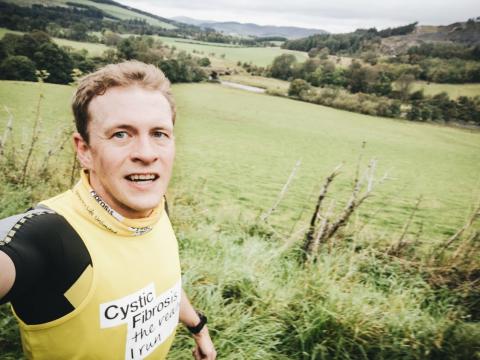 "I lost my brother Paul to cystic fibrosis. He was a big inspiration to me and it was tough to deal with when he died. In 2016 I took part in my first race, running in Paul's memory in the hope that in the future, CF is not something people need to worry about: it's something that is cured. Unfortunately, 2020 seems to be a year of heightened concern.
For 2020 my main fundraising event was going to be the West Highland Way race; however, due to the COVID-19 outbreak it was cancelled. I had been mulling over a few at-home fundraising ideas when I saw the Great Virtual Race Across Tennessee advertised and thought I'd sign up.
Taking part in a virtual event is a good opportunity to take on a challenge without the pressure of an event. You have the freedom of knowing it's your rules and it's what you want to do, and knowing you're supporting an amazing charity that now more than ever really needs it is certainly rewarding.
To stay motivated over the four months of my challenge I have set mini goals. I ran my first 100-mile training week in June, and now after a lot of slow running I am trying to incorporate some speed work. I timed myself running a 10k and set myself a goal over the month to focus on, so that I'm not only focusing on my distance but also improving my time.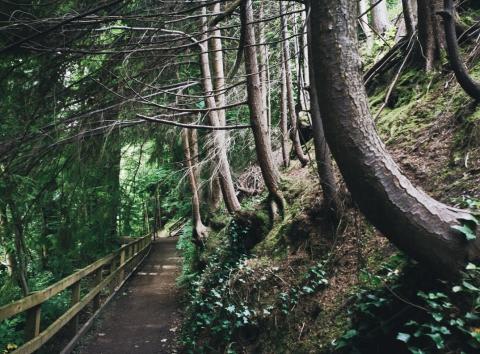 It also helps to bring some creative elements to your virtual challenge, as it makes it more interesting. I enjoy photography, so I try to take pictures when I'm out on my runs. I've also discovered a lot of new routes to run on - ones I've never seen before or haven't been to since I was about 12 playing hide and seek with my friends! It's a benefit of virtual events that a lot of people don't realise.
I started this challenge in May and am due to finish at the end of August. I'm currently at around 1,200km in my challenge: I finished the virtual 1,000km across Tennessee, and now I'm on my way back! I'm a little behind where I need to be… I'll review it in August and see how many stupidly long runs I need to do to catch up!"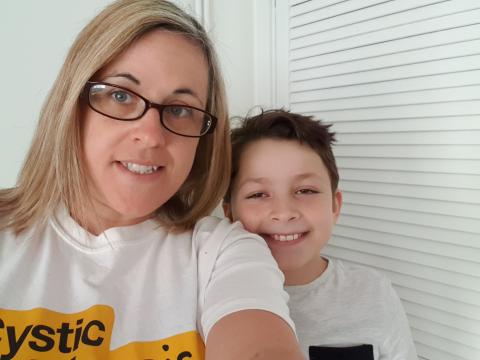 "My son Callum (10) has CF and normally does a lot of exercise. He plays football at least five times a week and we both usually do park runs. I knew we needed to do something over lockdown to keep his fitness up for when things returned to normal. We'd also seen other people doing virtual events for other charities and thought we should do something… plus we needed the exercise after sitting in eating biscuits since March!
So, we decided to run a mile every day in May. We did the challenge in the garden (which is only five metres wide!), running back and forth about three to four hundred times, every day. It was hard going on the knees with all those turns. We've also had to put down fake grass since, as all the running and football wore down the grass!
I shared updates literally every day, on Facebook, on our JustGiving page and in all of my Whatsapp groups. If you share pictures and videos, it actually proves you're doing it! We had a really great response from that and raised around £1,500 in total. It was a great motivation whenever another fiver would pop up on our page, and helped to spur us on.
It also helped to stick to the same running time each day. We ran in the mornings, when it wasn't too hot and before we sat down and couldn't be bothered to get up again! Towards the end Callum got a bit bored of running and did a bit on his pogo-stick. His three-year old sister joined in for some of it as well.
If you're thinking of joining Team CF's Running Festival this September, go for it! Share it with all your friends, get them on board and talking about it, and enjoy yourself! Stay positive, keep going and remember, every little helps. It's all for a great cause, especially when you think about who it is you are helping – whether that's on a personal level or on a wider level."
With the cancellation of hundreds of events due to COVID-19, we're facing a substantial drop in our fundraising income. Sign up to our first ever Running Festival this September, running either 5k, 10k, half or full marathon, and join the virtual community helping to fight cystic fibrosis.