From crucial campaigning to Christmas cause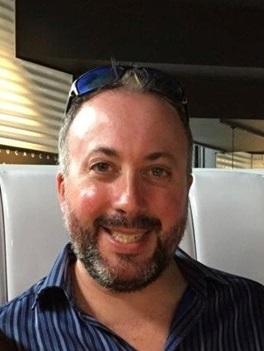 When the Daily Express asked me to launch a drugs access campaign for CF, my knowledge of the cruel condition was limited. Despite being misdiagnosed with CF at birth for a year, I was still incredibly ignorant of the genetic disease's real appalling effects.
I had no idea of the agony parents suffer at being told their baby has a life-limiting condition that, in many cases, they had never heard of before. I was equally unaware of the heartache and helplessness families feel seeing their loved-one struggle to breathe or shake off a nasty infection. Nor could I comprehend the earth-shattering injustice of people with CF being denied potentially life-saving medicines, due to what I perceived as a stubborn stalemate between US firm Vertex and UK health officials.
These aspects of the CF community's struggle have been agonising to discover, uncover and explain to shocked Daily Express readers - wonderful readers, who have taken on people with CF's plight like it was their own.
But personally, the negatives of covering this crusade has been heavily outweighed by the positives.
I could not imagine from my very first call to the Cystic Fibrosis Trust, on my first day of the campaign in February this year, that I would end up feeling a part of a community.
Battling adversity brings people together more than experiencing joy, and all the families of people with CF have faced their unfair share of adversity. But that is also their near unique strength - and wow, is this one determined, diamond-tough group of people! 
The Trust have been able to put me in touch with campaigners I could not imagine existed, who fight on social media 24/7 for justice for their children, sister or brother, cousin or friend. Their struggle soon became my determination. Their fight became my cause, and their heartache felt like my own tragic loss. I quickly developed friendships the like of which I've never professionally known - friendships I know I will keep and treasure forever.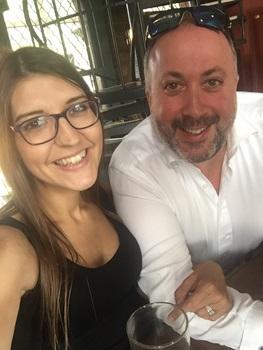 This Christmas crusade will heavily feature one person with CF - Carlie Pleasant, a young married mum, who has been pleading for the right to have Symkevi so she can see her two-year-old son Jude grow up. For months, Carlie wrote an inspiring, moving and devastatingly honest weekly diary in the Daily Express, as she detailed her every setback, every health victory, and made every vow never to quit fighting. I'm proud to now count Carlie as one of my most trusted and closest friends, while our families have got to know each other. I've even enjoyed a pint of Guinness with her dad in my local pub!
Carlie's always harboured a secret desire to be a journalist, and both the Trust and the Daily Express have helped her explore this by encouraging her to reveal her life on their pages or websites. First, we helped her interview Health Secretary Matt Hancock, who said after their face-to-face interview that talking to her had "re-energised" him to secure an urgent drugs deal for people with CF in the UK. 
She made him break down with emotion by begging: "Help me get life-saving drugs. Please don't let me die."
And he dropped his head and sighed when she urged him to apologise to her boy Jude, if she should tragically die before getting Vertex's drugs. He told the Daily Express afterwards: "Carlie makes an incredibly powerful case for why we need to make progress to get the best drugs available for people who suffer from cystic fibrosis."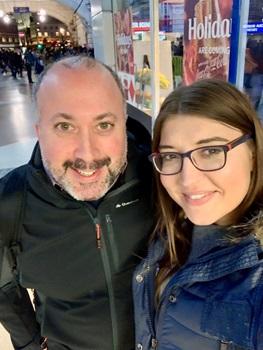 Later, with the help of the Trust at their London office, we also arranged for Carlie to quiz Vertex CEO Dr Jeff Leiden. 
In October, we celebrated with her and the many other people with CF whose stories we have told in the Daily Express, as Scotland, England, Northern Ireland and finally Wales finally secured their deals with Vertex for Symkevi and Orkambi. The community's willingness to tell their most private stories and openly discuss their fears and dreams made them compelling, and I'm utterly convinced it was the sheer cumulative weight of their raw emotion that secured those vital drug deals. 
After fighting for Orkambi and Symkevi, the Daily Express this month launched our new CF drugs crusade - to make sure Vertex's upcoming drug Trikafta is available to the 90 per cent of sufferers who are suitable to take it when licensed in the UK next year. But the battle for precision medicines is just part of the many aspects of the Trust's wide-ranging concerns.
This week, the Daily Express is proud to unveil our exciting fresh collaboration with the Cystic Fibrosis Trust, our amazing Christmas awareness and fundraising campaign. It aims to explain the different supportive work the Trust does behind the scenes, show where fundraisers' kind donations are spent, and what the future holds for people with CF with exciting research and treatment. We hope it proves insightful, interesting and maybe even inspire friends, family and even sufferers to donate and fundraise to help continue the charity's incredible work. 
I am certainly looking forward to penning a new chapter in our ongoing championing of a cause that is as persuasive as the disease itself is cruel and fickle.