The easy Squeezy way to improve your health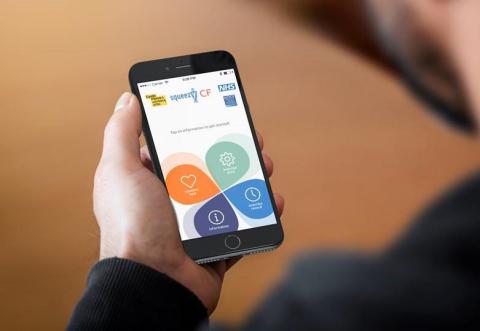 Support is at hand for people with cystic fibrosis to battle common issues such as incontinence and pelvic pain thanks to Squeezy, an app to help with pelvic floor muscle exercises (PFME), which has been adapted for CF by technology company Propagator working with CF specialist physiotherapists.
The app, presented at the 4th European Congress of the European Region of the World Confederation of Physical Therapy in Liverpool today, features versions for men and women, and includes exercises, tips and a schedule planner.
Pelvic floor muscles lie between the legs and support the bladder and bowel, and poor function can lead to incontinence, chronic pelvic pain and bladder and bowel dysfunction, such as infections, bladder pain and constipation.
Coughing and clearance techniques that people with CF use every day can strain the pelvic floor, making them more at risk. Urinary incontinence is more prevalent in females with CF than in those who do not have the condition. It occurs in men living with CF as well, but is less common.
Because people with CF are living longer, factors like pregnancy and physical activity can also have an impact.
Evidence suggests that PFME can cure incontinence in up to 80% of cases. As well as featuring easy to follow exercises, the app is intended to help with adherence to a PFME regime, something that the team's research identified as a particular problem.
Myra Robson, Senior Women's Health Physiotherapist at The Lewisham and Greenwich NHS Trust, who helped develop the app, said: "Team Squeezy are delighted to have been able to fulfill the request of specialist CF physios and adapt Squeezy for this client group. We are excited at being able to offer something to help those with CF improve their pelvic health and look forward to any feedback!"
Jacqueline Ali, Head of Information & Support at the Cystic Fibrosis Trust, said: "Pelvic floor dysfunction is an issue that we know can significantly affect quality of life for people with cystic fibrosis. We hope this will be a useful tool to support people with cystic fibrosis to improve their health and manage their symptoms."