Tim's journey to the finish line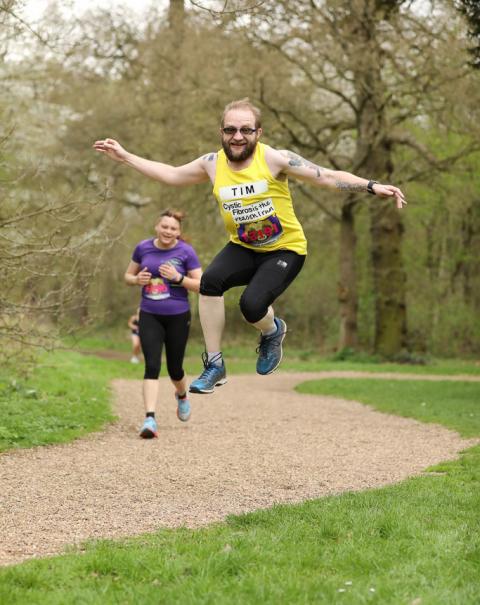 I signed up for the London Marathon as I wanted to do something incredible for my 40th birthday (they both fall in the same month!) and to show others that CF can still allow you to do crazy challenges. As the treatments for CF and knowledge about CF get better and better our outlook is better now than it ever has been. By pushing ourselves we can strive to achieve much more than ever imagined. But it's been a long road to get here…
The way things were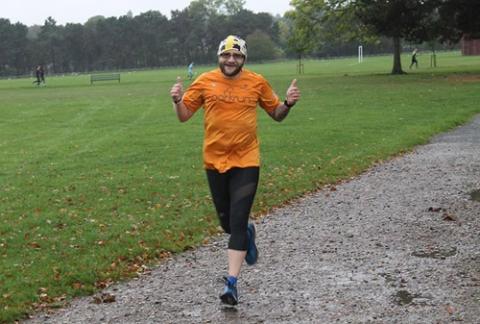 Until September 2013, I would be hospitalised every three months or so for IV antibiotics. Getting into my 30s I would try to distance myself more from friends in case they had infections, as I would invariably pick them up if I didn't. Despite this, I still picked up coughs and colds requiring my usual IV recharge treatment. 
My life changed massively after I got the call to take part in the VX-809 (Orkambi) trial. My chest felt extremely clear and I felt well, yet on starting the trial I was coughing so much horrible gunk up off my chest that if it had been an infection I would have been in trouble!  Every day was so much easier; I had more energy, I was getting breathless less and less, and my lung function had shot up. Everything felt great.
A second start
I was fortunate enough to be on the active drug trial for two and a half years, but unfortunately after this I found that it gave me a lot of shortness of breath. So I made the decision with my consultant to stop taking the medication. However, while I was taking Orkambi a lot of the damage that had been done to my lungs seemed to be reversed, which gave me a second start. This enabled me to start going to the gym and return to full-time work. This then lead me to stop the gym and start running!
Access to precision medicines has been life changing for me and others. Having a medication that addresses the root cause of the problem instead of the effects of CF is incredible. It makes so much more sense and will lead to a decreased risk of lung infections and hospitalisations. Precision medicines must be the way forward and this is helped massively by the work of the Trust and other organisations.
Not your typical half marathon
My first half marathon wasn't a typical experience. I had been training for it for a couple of months and had raised some money for the Trust. My training had been going ok, but I was still trying to push my body. Unfortunately, I came down with an exacerbation two weeks prior to the half marathon. My lung function dropped significantly. Fortunately, I have good access to my CF team and got an appointment that day at my hospital. Either I went into hospital and tried to get well, or I wouldn't have been well enough to attempt the run. After a week in hospital my mother was taken extremely ill, so I had the added stress of her being unwell.
I was discharged from hospital six days before the run and finished my home IVs the day before. On the day, I went to the Trust tent and sat in the back taking a last-minute nebuliser to help my lungs through the race. I was petrified at the time; I didn't know if I could manage the distance as I was unable to complete my long training runs due to the infection and still didn't feel great. When I started I just wanted to finish, ideally in under 2:30. I hoped for 2:15. I completed my first half marathon in 2:11. Running the race I felt fantastic. Tired, but fantastic. My lungs hurt, my legs hurt, but it felt great that I had done it and my mum was discharged from hospital whilst I was running!
Doing something incredible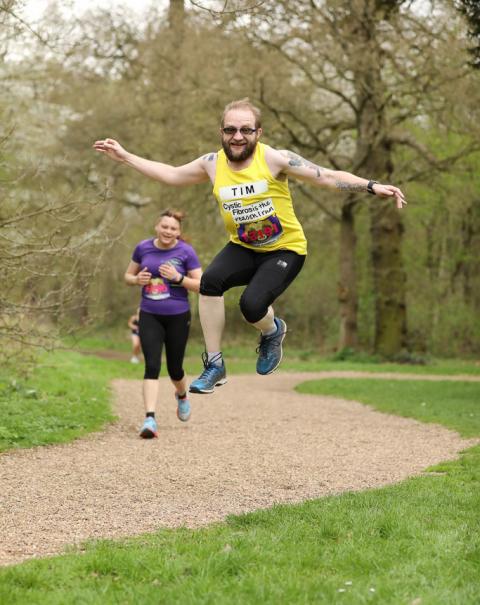 I know that running is hugely beneficial. I love the way that it's given me masses of energy and a new outlook on life, which has all been driven by Orkambi. This year I have been concentrating on increasing my form and distance. As an engineer I get fascinated by stats and numbers, so seeing my times coming down is a great motivation and helps me push myself when running. My partner helps keep me going; she is also a runner and we run at a very similar pace. We have taken part in four half marathons this year together, the last one (my fastest to date) we started and finished together with identical times. We have a very friendly rivalry to see who is the quickest, so she keeps me on my toes and committed to training! It is a shame that she didn't get into the London Marathon, but she will be supporting me all the way.
I am absolutely petrified about the London Marathon, yet extremely excited at the same time! I know that a half marathon has me exhausted and in pain for a few days, yet once I finish one half marathon I have to start the second straight away. I took part in the 2018 London Landmarks Half Marathon and the atmosphere and energy from the city was incredible, so I cannot wait for 28 April to come around!