Tim's story: 50 years of living with cystic fibrosis
In my early years, there really wasn't much in the way of medication. I had to put the enzyme powder Cotazym on my food until my early teens. There were no effective antibiotics to fight infections until Amoxicillin in the mid 80s. The risks of cross-infection were not understood, and I used to regularly share a car with three other children with CF on long journeys to hospitals. In fact, after appointments at Brompton in my early 20s, I would go to the pub with another chap with CF for a few cheeky pints!
Up until 2007, I had done all my socialising in smoky bars, restaurants and nightclubs, which cannot have done my lungs any good at all. It was a choice I made to be social rather than stay in and vegetate, but it cost me big time.
People with CF now have such a heavy medical burden that we have to get through every day, just to live a full life.
Everyday challenges
Physically, I have always been the smallest male in the room and in every sporting team, and I look very young for my age.
The incessant coughing for 50 years takes its toll, especially when you live with a wife and son. Being in a long-term relationship is especially tough, as your partner has to put up with the constant sights and sounds of CF and love you despite the illness.
All the IV treatments prevented me from getting a proper flow at work and in sporting teams because every six months I need at least a month off. The daily burden of drugs is harsh, especially when it only gives me health that most normal people would despise. My 'best days' are like the 'worst days' for my healthy peers.
Breakthroughs in treatments
The major moments that I can recall in terms of developments in medicines were any treatments that made me feel relatively normal and less ill. Starting Creon was a big deal for absorption of food and body growth. Amoxicillin was helpful as a short-course antibiotic to manage chest infections. I was fortunate that Pulmozyme, which I trialled in 1994, was so beneficial to my lung function, thinning the mucus and helping me to cough it up more easily. Before I started taking it, I was on a steep health decline which stretched from my university days. I only had the energy and health to work part-time and I was playing a low-level of field hockey. I had been playing junior international hockey for England previously, so the comedown to barely being able to run was enormous.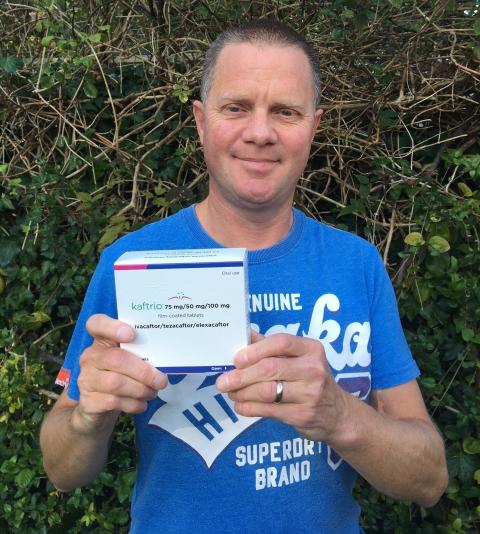 Within weeks of taking Pulmozyme, I had the energy to work full-time and I was fit enough to play first team hockey and be competitive on the pitch. This in turn boosted my self-esteem and happiness.
The next big help was Mannitol in 2014. I was at a low ebb and it really lifted me just as I had left an employee job to go freelance. It was a leap of faith that worked out for me, and Mannitol kept me pretty well for a few years with reduced intravenous treatments.
Obviously, more recently, Kaftrio has made a big difference to my lung function and fitness after two years of decline, so that feels like a miracle drug as it has most likely staved off the need for oxygen and being on the transplant list.
Mental battles
Mentally, it's been a long duration of battling against the odds, which does take it out of me and it's only natural to sometimes struggle to keep positive and upbeat. Getting CF-related diabetes (CFRD) in my late 30s was a significant moment for me – a crossroads in my life. I thought to myself: 'Will this be too much to bear or can I find a way to handle two big health conditions?' It turned out to be the catalyst to explore how I coped mentally, and I researched all the different ways I could harness the power of my mind to overcome my health challenges.
Losing so many of my friends with CF along the way has always brought introspection and concern that I might be next. Each of their deaths took a piece of me with them but I was determined to fight on in their memory.
However, becoming a father to Felix in 2007 was a massive milestone. It was very challenging with the extra tiredness and disrupted sleep (although my wife Katie took the brunt of night time wake-ups). The increase in infections that were brought into the house is a constant concern but one you have to navigate through with a pragmatic approach.
I chose to do all my medications in front of Felix so as to normalise the illness. My treatments helped him to understand what was needed to keep me well and how he could support me by keeping a distance when he had a cold.
Living through lockdown with CF
The last year has been a challenging time, but even before we knew what coronavirus (COVID-19) was. I caught a nasty virus in London at the end of 2019, which had all the symptoms for COVID-19 and laid waste to my lung function. A short flight of stairs was tough to get up in January 2020.  Katie told me she had never heard me cough so barbarically (and she's heard a lot of my coughing over the last 20 years). I had a three-week IV course to help but it didn't really improve my lungs that much.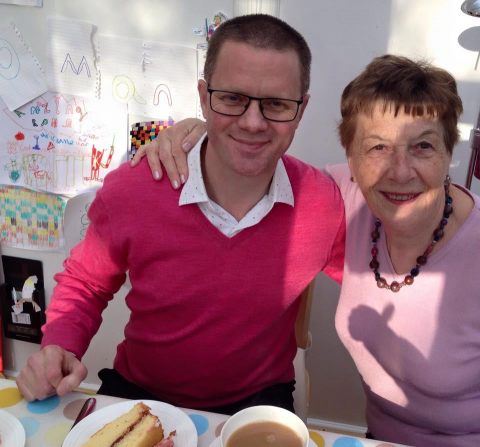 When lockdown commenced in late March, I had to leave my wife and son in London and shield away with my mum in Southampton for over four months, as Katie is a nurse and could have brought COVID-19 home. This was a very challenging time, not seeing Katie and Felix, and not actually knowing when I could safely return home to my family. I got through this with my mindful and meditation practices, regular exercise, taking it one day at a time and not projecting too far ahead. Plus, my mum and I get on very well and we took care of each other.
I am fortunate during this past year that my full-time job as Head of Communications for a maritime company gave me a Monday-to-Friday structure; however, as a social butterfly, I've been missing seeing friends and getting out more. The lack of variety and things to look forward to have been the biggest challenge.
That being said, I am always mindful that I have my family, my house, garden and local parks to exercise as well as sport to watch on TV. Starting Kaftrio in September 2020 and having the second vaccine dose in early April this year have also helped me feel positive, and have given me some armour-plating against COVID-19.
Celebrating 50 years
I've always been extremely determined to survive come what may, which has helped me to reach this amazing milestone. It's been a case of hoping for the best and taking on CF, while making sure I respect the illness and all the possible CF-related banana skins.
I have made many mistakes along the way with my health care and overdoing it socially. I'm not a paragon of virtue but I did learn from these mistakes and quickly learnt what would help me in the long term.
Back in the day, getting to 30 was the Holy Grail. When I made it to that age, I then realised that 40 was an option. Becoming a husband and a father gave me extra motivation to keep going for a long as possible. Starting my 'Postcards from Earth' blog and having my memoir 'How have I cheated death?' published in 2014 added to my commitment to keep pushing the barriers. 'How have I cheated death?' still resonates as I'm now 33 years beyond the projected age I was due to die from cystic fibrosis. It's an amazing age to reach, but to be honest, I hope there's a long way to go still – the end of the beginning!
A message to the CF community
If you are reading this and have CF, don't underestimate the power of the mind to take on this condition! I can 100% confirm that the most important person you will ever speak to is… yourself. Start mindful practices, be grateful for what you do have, rather than bemoan what you don't have. Try and find ways to be more present and in the moment. Be still outside in nature and take deep breaths to feel a sense of peace and calm, even if it's only for five minutes each day.
The holy trinity for my survival has been:
Utter commitment to my medications; 
Regular exercise to keep my lungs active; and 
Positive mental attitude. 
I need all three of these in harmony. Just one or two and I would not be alive today.
It's very important not to make CF more than it ought to be in your life. I've lived by my mantra that 'I'm only as healthy as my last treatment'. Cystic fibrosis treatments consume around two to four hours of my day, but that still leaves us the majority of the day to enjoy and feel alive.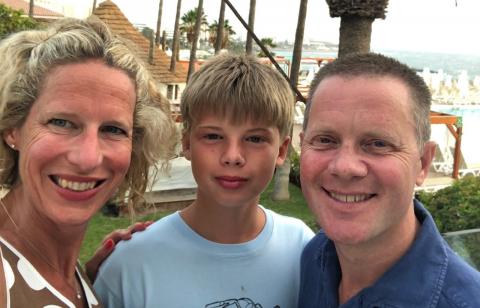 Lastly, help yourself by helping others. It's a great distraction and you'll be amazed by the good karma that comes your way.
People with CF are the most resilient people I know. That counts for a lot in the outside world, especially at work, where we don't sweat the small stuff and want to make each day count.