Tiny fundraiser with a big heart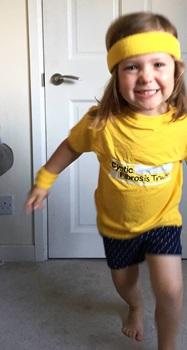 When Lee signed up to cycle from London to Paris to raise funds for the Cystic Fibrosis Trust, little did he know that his three-year-old daughter Lois was taking note, ready to do her bit to help beat cystic fibrosis, the condition her one-year-old cousin was born with.
Now on 23 September it'll be Lois's time to shine as she joins the one-mile Scooterthon and Kids Fun Run, at the annual Dulwich Park Fun Run organised by the CFTwo Fundraising Group for the Cystic Fibrosis Trust. The event also features a 5k and 10k run and a one-mile buggy push.
Lois's mum Amanda says: "My daughter is very proud of her daddy, as we all are. However, in the middle of July Lois said to us out of the blue: 'I want to do a race like daddy. I want to raise money to help Grace get better.' So we signed her up for the Dulwich Park Fun Run. We are very proud of her, especially at such a young age that she would want to help make a difference."
Mercedes Brazier, Events Coordinator at the Trust, said: "The Dulwich Park Fun Run is one of the highlights of our events calendar, and we are really excited that Lois wants to join. This year we hope more than 200 runners will come together for this really special event.
"We're very proud of Lee too, for leading by example with his epic cycle trek. It just shows how inspiring our fundraisers can be!"
Do you want to join Lois and hundreds of other fun runners? The Dulwich Park Fun Run takes place in London's Dulwich Park on 23 September - find out more and sign up now.