Top Scottish health award for cystic fibrosis nurse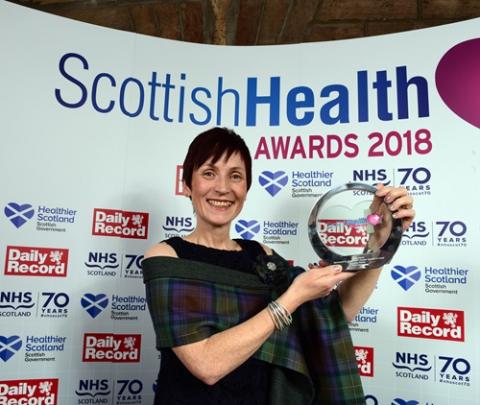 Lesley Blaikie's dedication to providing high-quality care for people with CF at NHS Highland earned her the Nurse Award 2018.
Lesley was nominated for the award by Ashley, one of her patients, who sadly died before Lesley picked up the award. Lesley dedicated her award to Ashley at the awards ceremony in Edinburgh on 1 November.
Lesley said: "She was truly an inspirational young lady. She believed life is full of moments, and this was definitely my proudest moment."
Lesley has worked as a cystic fibrosis nurse in Highland since 2013, providing care for both adults and children.
She said: "I cover a huge geographical area, but have and continue to love every minute of it.
"I am absolutely thrilled, not only to have been nominated, but to have won. It's humbling and a very proud moment."
Speaking about the difference Lesley made to her daughter's life, Ashley's mother Nikki, said: "She brought a new perspective to Ashley's understanding of cystic fibrosis.
"She let Ashley really do what she wanted in her life, and helped her do that by sometimes changing her medication to help her life be a little bit easier."
Cystic Fibrosis Trust Chief Executive David Ramsden said: "I had the chance to spend some time with Lesley last year in Inverness and it is fantastic that she has been given this award. During my visit I also got to meet Ashley. She was a wonderful young woman and I saw first-hand their bond of care and support."
The annual Scottish Health Awards are run by the Daily Record, in partnership with NHS Scotland and the Scottish Government.