UK CF population living longer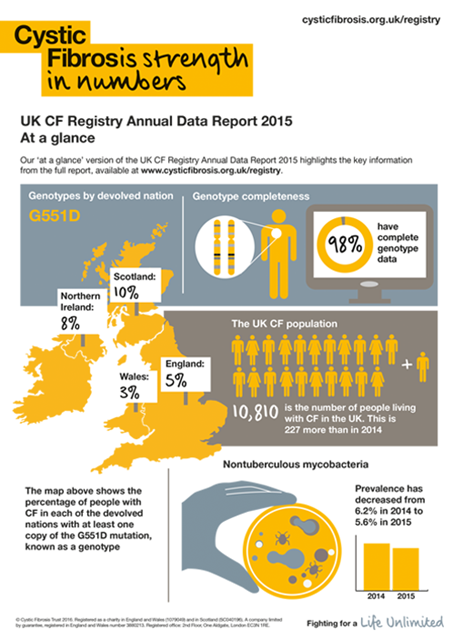 The annual UK Cystic Fibrosis Registry Report, which provides a snapshot of cystic fibrosis in the UK, records 10,810 people living with the condition in 2015, with the median predicted survival age standing at 45.1 for the year, or 47 when seen as a three-year trend from 2013.
There is disparity between the genders, with the female median predicted survival age at 42.6 years old for the three-year period, compared to males at nearly 48.
The report also shows improvements in the fight against deadly bacteria, with an apparent fall in nontuberculous mycobacterium (NTM) to 5.6%, and importantly a 15.2% fall in chronic Pseudomonas aeruginosa infection among people with CF aged 16–19, a vulnerable age group, since 2008.
For the first time the Report also records pregnancies among women with cystic fibrosis, with 90 either having a live birth or still pregnant during 2015.
Not all of the analysis shows improvements, with the number of lung transplants dropping from 59 to 42, which comes after European data for 2013 showed 3% of people living with a transplant the UK against a European average of 5.3%.
Rebecca Cosgriff, UK CF Registry Lead at the Cystic Fibrosis Trust, said: "The Registry is an extraordinary asset to the CF community – the high quality of the data enables us to confidently evaluate changes in cystic fibrosis over time to inform the best clinical outcomes for those with cystic fibrosis. We're constantly working with clinicians, the NHS and drug companies to maximise the impact of the Registry on health outcomes for people with cystic fibrosis."
You can find out more by visiting our Registry page or reading our At-a-glance summary or full Registry report.