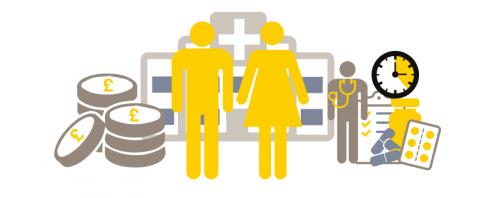 After the first CF Insight Survey in 2016, Paul and his team reviewed the feedback from social media, both when the survey was launched and when the results were published. Following this, a series of focus groups over the summer and some individual conversations helped shape the new edition of the survey.
So, how has taking part in the survey had an impact on the work the Trust does?
The responses to our survey have been so important for shaping our work and our understanding of what matters to our community right now.
One key area was what we learned from people's experiences with clinical trials, which helped us develop our Clinical Trials Digital Hub, and launch the Clinical Trials Accelerator Platform.
On the clinical care side, last year's survey has really helped us understand more about the patient experience at individual centres, and the time demands facing people with CF and their families.
The questions about exercise and how people use health apps has informed our Activity Unlimited programme, and provided useful data for our Activity Strategic Research Centre, led by Professor Craig Williams. It has also given us a better idea of the range of apps and devices that people find useful. This insight is helping to inform our SmartCareCF studies that are looking at health monitoring at home and how that can improve CF care.
Just having the opportunity for people affected by CF to tell their story has been amazing. We have been able to use the anonymous quotes in our lobbying, to shout loud about cystic fibrosis, and to put the community's voice at the heart of our fundraising and awareness work. It also inspired all of us at the Trust to redouble our efforts to beat CF for good.
How is this survey different from the 2016 survey?
A key piece of feedback about the last survey was that it didn't provide enough scope for partners and parents of adults with CF to participate as deeply as they would have liked.
This time the survey is more relevant to anyone with a connection to CF – particularly partners and families, who are growing in number as more people with CF live longer. We've given more room for people to express how they feel themselves, which will help us understand what really matters to people, no matter what their relationship to cystic fibrosis.
Learning that many people felt less likely to be open about their CF with work colleagues and employers than in any other situation has inspired further questions in the new survey, related to people's experience of support at work or while studying. This will help us understand how we can better support our community.
Taking on board feedback from the community and our focus groups, this time we have also included a section looking to the future. We are asking what people think we should be exploring in relation to getting older with CF – and what the future may hold for CF care in an NHS that is already stretched.
How will taking part in this survey make a difference?
The survey results, along with data from the UK Cystic Fibrosis Registry and other resources such as the James Lind Alliance Research Priorities, and ongoing involvement work in hospitals, will directly inform what we at the Trust do in the next few years. This could include research, care, campaigning or the information and support services we offer.
When will people get to see the results?
We will publish some headline results in an at-a-glance report this spring, and then for the first time we will publish detailed information from the first two surveys so that the community can have a broad overview of people's experience of life with CF in the UK now. We will also present the findings at conferences and events after the summer.
This year's CF Insight Survey is now closed.