Why Hannah is at the heart of the debate in Scotland
Yesterday afternoon, MSPs debated precision medicines in the Scottish Parliament at Holyrood. The 5pm debate followed Maurice Corry, West Scotland MSP, tabling a motion demanding that cystic fibrosis drug Orkambi is made available on the NHS in Scotland.
The debate highlighted once again the importance of time in the negotiations to make Orkambi available on the NHS: the time that people with cystic fibrosis have been waiting for access to Orkambi, the time that has been lost, and the time that some simply don't have.
Emotional accounts
A powerful opening speech by Maurice Corry drew attention to the inequalities between people with cystic fibrosis in access to precision medicines, also raising his concern that science is moving too quickly for the system to cope. His words were followed by accounts, some emotional, from MSPs who described the struggles of their constituents, to the applause of the public gallery. A number of attendees referenced their involvement in the cross-party meeting organised by Jackie Baillie MSP, who also spoke passionately at the debate describing the situation as an "historic opportunity to literally save lives" for Scotland.
Claudia Beamish MSP described the experiences of a constituent currently accessing Orkambi, and summarised that: "[Orkambi] may not benefit everyone, but it should still be available to all who may benefit from it, many of whom are running out of time."
Promoting a portfolio approach
The Minister for Public Health, Aileen Campbell, responded to interventions from MSPs during her closing remarks, such as that from Alex Neil, asking the Government to clarify whether they would instruct the opening of discussions based on the portfolio approach. Campbell responded to confirm that confidential talks were ongoing between Vertex and NHS Procurement Scotland but highlighted the careful consideration required when creating a system that is "fair and consistent, but has the agility to respond to clinical needs".
Maurice Corry MSP said: "I'm glad we have had the opportunity to debate in the parliament the issues surrounding the availability of Orkambi. I brought forward the motion and the debate after hearing about the affect it could have on people with cystic fibrosis and, in particular, just how many people in Scotland it could help. It's a drug that could have such a great impact on the patients that need it and the Scottish Government need to make sure it is available for patients on the NHS."
Travelling for treatment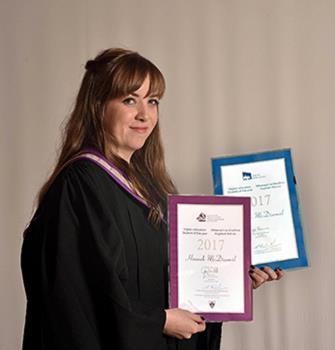 One of those taking a personal interest in the debate was 23-year-old graduate Hannah McDiarmid.
Hannah, who has CF, lives on the Isle of Skye, where she can trace her lineage back to the early 1800s on her father's side when her ancestors lived in the north end of the Isle. But the part-time archive assistant and tourist advisor, who studied for a Gaelic degree at Skye's Sabhal Mòr Ostaig college, has to make a three-hour trip to her CF centre in Inverness every other month, and worries she may have to move their permanently.
Hannah says: "The doctors and nurses and other staff at Raigmore Hospital are all really great, but as you can imagine it is quite a trip and there have been times in the winter when, due to snow and ice, it has been too perilous an attempt to make.
"I can't drive long distances because of my condition but have to make the journey every other month, so my mum drives me. When I do my mum stays at a friend's in Inverness, but it is impossible for my dad and brother to do this as they have work.
"It is becoming very difficult and we wonder how long we can carry on doing this and this has led to myself and my parents discussing whether it would be better for me to move to Inverness."
Cystic fibrosis currently affects more than 900 people in Scotland, but more than a third of those could benefit from Orkambi, including Hannah.
"Medical research is really changing the way cystic fibrosis can now be treated and Orkambi could potentially help me," says Hannah, "I just wish it was available on the NHS as it could make my life easier and could potentially mean I could remain on Skye with my family rather than having to live closer to the hospital.
"I am speaking out not only because I believe Orkambi could help me, but because I want to campaign to help others as well.  For the first time in history we are now seeing some significant scientific advances that mean that there are medicines becoming available that can really target the root cause of cystic fibrosis, yet Orkambi, one of the first on the market, is not available in Scotland. It seems very unfair."
Lynsey Beswick, the Public Affairs Manager at the Cystic Fibrosis Trust, says: "Hannah's story is very thought provoking and shows the very real impact of these medicines not being available on the NHS.
"I would like to thank Hannah for bravely speaking out and hope that this debate will help and that the NHS and Orkambi manufacturer Vertex can reach a deal to make this medicine available. It is vital that people with CF have access to this drug as soon as possible."
Next steps
Watch the debate on Scottish Parliament TV, or find out how you can join the fight for access to precision medicines on our website.