Why the flu vaccine matters in CF more than ever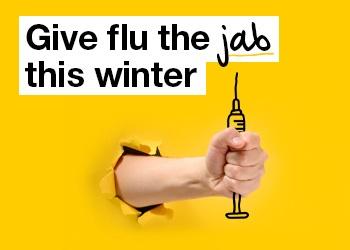 Each year the World Health Organisation identifies the most common strains of influenza (flu) circulating, which enables a vaccine to be developed before the start of the flu season.
People with CF are in the at-risk group of people who are eligible for the free flu vaccine each year, but it is important that members of their household, or other close contacts, get the jab to keep their loved ones safe and out of hospital.
How does flu affect people with cystic fibrosis?
Flu can trigger an exacerbation in people with CF, which could impact their long-term lung health. Symptoms can range from mild upper respiratory tract symptoms to severe respiratory symptoms.
How does the flu vaccine work?
The jab protects against the most common strains of the flu by prompting the person receiving it to develop antibodies (usually after about two weeks) that can fight these common flu strains. These antibodies reduce the risk of becoming ill from the flu and being admitted to hospital.
Getting a flu vaccine also reduces the chances of becoming ill with a respiratory illness that could initially be confused with COVID-19. Avoiding becoming ill due to flu would avoid unnecessary concern, contact tracing and quarantine for the whole family.
Children between the ages of six months and two years may be offered the injected flu vaccine at their hospital clinic or by their GP. Children, over two years old, are given a nasal spray by their GP, at school or in their hospital clinic, while adults can receive an injection from their GP, hospital clinic or a pharmacist.
Why is it important for friends and family to get the flu jab too?
Even if you have the vaccine you are not 100% protected against a flu infection, but you can add an extra layer of protection by reducing the likelihood of close contacts catching flu and transmitting the infection to you.
Far too few people who are entitled take up their free vaccine in a typical year, less than 50¬-75% of various eligible groups.
When should I get the flu jab?
Flu season in the Northern Hemisphere runs through the autumn and winter months. It is important to get the flu jab before flu season gets underway – ideally mid-September to the start of October.
Due to fewer face-to-face appointments in hospital clinics it is important to plan how and when you and your family will get the flu vaccine.
That's why we are asking the CF community to "give flu the jab!"