Willing community backs a winner!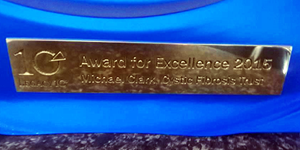 Michael Clark, Legacy and In-memory Manager at the Cystic Fibrosis Trust, paid tribute to the charity's fantastic supporters as he collected the Legacy10 Award for Excellence 2015, highlighting the importance of giving to charities in wills, and the role of the community.
Under Michael's stewardship, the Trust has made bold strides in promoting gifts in wills, including direct marketing and digital campaigns aimed at busting some of the myths around leaving money to good causes, and working with the Remember a Charity campaign.
Michael, whose award win includes a £5,000 donation to the Cystic Fibrosis Trust, attributes a big part of the success of the Trust's efforts to the response from supporters, especially when he turns out to meet them at regional meetings and fundraising events.
He said: "I personally would like to thank all of our supporters who have welcomed me to their events, fundraisers and branch meetings; for listening to our plans for the future and understanding how important gifts in wills are to help us beat cystic fibrosis for good.
It's thanks to their engagement that our free wills offering has enabled over 130 people to write a will for free using a local solicitor, and secured over 100 new pledges for us. Gifts in wills help us know we will be around to continue fighting for a life unlimited by cystic fibrosis."
Legacy10 is an independent campaign which aims to change people's attitudes to giving in their will, and to highlight the taxation benefits of gifts to charity.
See how you can leave a gift in your will, and help us beat cystic fibrosis for good.