CF Creates
To coincide with the release of the autumn issue of CF Life, we're challenging the CF community to use the packaging from their CF medication to create something completely new. Find out more about our CF Creates competition, how you can get involved and the prizes we're offering.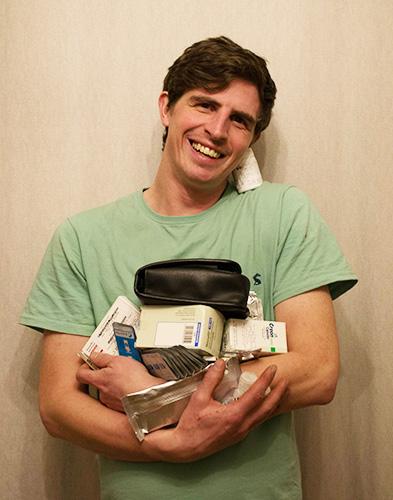 The competition
In the autumn issue of CF Life, Robin, a part-time marine biologist with cystic fibrosis, showed us around his zero-waste shop 'Natural Weigh' in Wales, which he opened with his wife Chloe. Inspired by Robin, we're challenging the CF community to use the packaging from their CF medication to create something completely new with our CF Creates competition.
You could try something as simple as making a tower out of your old medication boxes, fashion something functional, a work of art or even build a robot with moving parts – it's up to you!
We hope this competition will help illustrate just how many medications people with CF have to take every day just to stay well, and give people with CF an opportunity to turn that burden into something fun, practical or beautiful.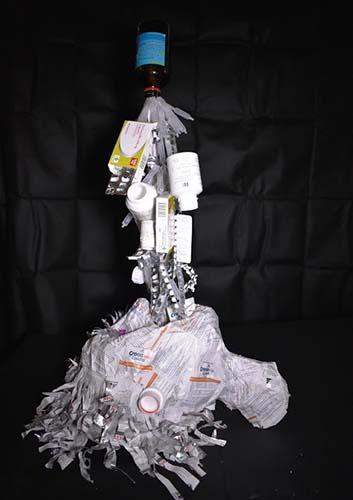 The winners
1st place - "CF packaging – a little hard to swallow," Emma, Milton Keynes
"My 14-year-old daughter Maisie has cystic fibrosis. I collected the packaging from her medication over two months, though only used about 2/3 of it in the finished piece. I think it will shock most people to see how much medication a healthy child with CF needs to take. It shocked me to see exactly how much packaging is used, but to keep Maisie healthy there isn't much choice."
2nd place - "Medi-cender," Lauren Blow and her eight-year-old son, who has CF, Manchester
"This is an ender dragon from Minecraft. My son is such a trooper with his medication and he looks forward to playing Minecraft once his nebs and physio have been done each evening. His favourite character is the ender dragon so he helped me make one from his medications.
"The dragon features: 18 days' worth of muco-clear saline solution vials, two weeks of mucoclear boxes, four weeks' worth of Creon 10,000, a month of Menadiol, vitamin tablets, a month's inhalers, and a week's worth of antibiotics that Lauren's son had to take for a bug that wouldn't shift."
3rd place - 'Creon Pot Coffee Table' – Melissa, Ellis (aged nine, with CF, holding the sign) and sister Hattie
"It took 5,500 Creon capsules – 137 and a half days of Creon supply – to make the table. We enjoyed entering the competition and Ellis' sister helped too."
Have a go
Think you can have a go and didn't manage to enter the competition? We're always on the lookout for people with CF who are creative. So, whether you are an artist or a creative genius, drop the social team a line at magazine@cysticfibrosis.org.uk.
Research we fund
We fund research to tackle some of the most pressing issues in CF today. Find out how your donations are making a difference.
What is CF?
Cystic fibrosis, or CF, affects the lungs, digestive system and other organs, and there are over 10,600 people living with it in the UK.
Contact us
Get in touch with us to speak to someone on our Helpline, find out about an event or speak to our Press Team.