Our magazine
CF Life is our twice-yearly magazine. Packed with the latest news, features, and real life stories from the CF community. You can read CF Life here, or let us know if you would like to join our mailing list.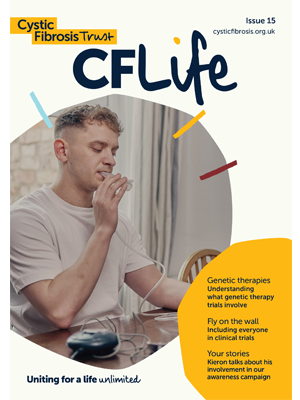 CF Life – Autumn 2023
In this issue of CF Life, we're excited to share our brand new genetic therapy resources, explaining what they are and how they may be used to treat CF. While more people with CF live longer and fuller lives, we are mindful of wider issues arising and ensuring we support people through them. Our feature on bowel cancer and CF is a stark reminder of how far we still have to go to achieve a life unlimited for everyone with CF. Following the launch of our latest awareness campaign, 'You don't see CF', we speak to our amazing supporter Kieron about his involvement in the campaign. Plus, we talk with CF paediatrician Dr Maya Desai to learn about the importance of diversity in clinical trials. Elsewhere in this edition, we take a break with BBC Interior Design Masters contestant, Jack Kinsey, who has CF, to hear about his work and time on the show.
Get involved
Join our mailing list – To join the mailing list for our publications, head to our consent portal, create an account and you will be automatically opted into post.
Join our reader's panel – Do you want to help form CF Life? Join our reader's panel to share your ideas and work with us on developing exciting and engaging content for our magazine.
Contribute to the magazine – If you have any feedback on CF Life or have something you think we should be covering, contact us today.
Past issues