Our magazine
CF Life is our twice-yearly magazine, full of news and features from ground-breaking research we're funding to the huge community fundraising successes that make it possible. You can read CF Life here, or let us know if you would like to join our mailing list.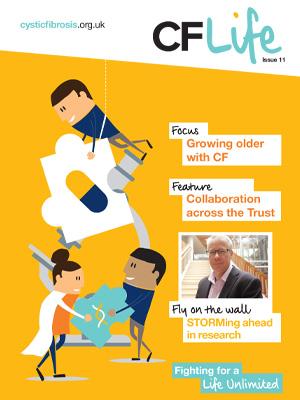 CF Life – Autumn 2021
In this issue of CF Life we look at how the trust collaborates with a variety of groups to achieve the greatest impact for those with CF. We also look at research studies that will assist with the better understanding and prevention of any age-related CF complications that people may develop and more.
Get involved
Join our mailing list – To join the mailing list for our publications, head to our consent portal, create an account and you will be automatically opted into post.
Join our reader's panel – Do you want to help form CF Life? Join our reader's panel to share your ideas and work with us on developing exciting and engaging content for our magazine.
Contribute to the magazine – If you have any feedback on CF Life or have something you think we should be covering, contact us today.
Past issues