CForYourself: A podcast from Cystic Fibrosis Trust

In each episode of CForYourself, our host Lucy Baxter will be having a (virtual) cup of tea and a chat with others in the cystic fibrosis community. They'll talk openly and honestly about a whole range of topics, from exercise and employment to parenting and mental health. We'll also hear from CF experts, who will be sharing their knowledge and advice for everyone affected by CF.
CForYourself is all about sharing honest insights into life with cystic fibrosis, the good, the bad and everything in between. 
If you'd like to get in touch with your thoughts or suggestions for the podcast, we'd love to hear from you. 
Episode 1: Living with an invisible condition

You might not be able to see CF or what it does to the body. But it's not invisible to the 10,800 people in the UK whose lives are dominated by it every single day. The challenge of living with cystic fibrosis is invisible. Except for the ones who live it.

Kieron Smith, 26, was the face of our latest #CFTruths awareness campaign, 'You don't see CF', that launched across the UK in April this year. As part of this, his face appeared on billboards and adverts to raise awareness of the realities of cystic fibrosis. In the very first episode of season two, our host, Lucy sits down with Kieron to hear more about his involvement in the campaign, his life with CF and the importance of raising awareness.

(In this episode, Kieron is speaking from a personal capacity - all views are his own and not necessarily that of Cystic Fibrosis Trust.)

We also hear from Sean Chapman, Head of Marketing at the Trust to give us the lowdown on the campaign and the response from the CF community.

Read the full episode transcript.

For more information and support on any of the issues we've talked about in this podcast, you can call our Helpline on 0300 373 1000, or email helpline@cysticfibrosis.org.uk, or message us on WhatsApp
When it comes to diet and nutrition, everyone with CF is different. You should always seek individual advice from your CF dietitian.
For general information about a range of issues relating to diet, nutrition and CF, we have a series of leaflets that have been written by CF dietitians.
Check out our 'Work Forwards' programme of employment support for more information about disclosure of CF at work and how, when and why you should make an employer aware that you have CF. The decision to tell your employer about your CF is a personal choice for you to make, but if you don't tell them, it could affect your rights.
Find lots more information on work and CF, including details of organisations that can provide support with discrimination.
Speak out and share your CF truth. You can download our social media graphics and help others understand what everyday life is like for people with CF. Remember to tag us @cftrustuk and use the hashtag #CFTruths to join the conversation.
Discover our new programme of employment support.

The podcast is also available on Spotify and Apple Podcasts.

Episode 2: CF and the menopause

People with CF are living longer than ever due to advancements in effective treatments and care but the aging process can also bring its own challenges and issues to contend with.

To mark Menopause Awareness Month, our host, Lucy sits down with 59 year old Jane, to talk about her experiences of going through the menopause, her top tips and the need for more awareness and information about CF and menopause. We will also chat about the need for geriatric and menopause specialists within CF teams.

We also hear from Holly Ellard, Information Officer at the Trust, who shares some of the latest information and top tips for those with CF going through the menopause.

Read the full episode transcript.

The podcast is also available on Spotify and Apple Podcasts.

Episode 3: CF and dating with Lyndall Grace

In episode three, our host, Lucy sits down with Lyndall Grace, star of season 10 of Married at First Sight Australia to chat about growing up with cystic fibrosis, keeping fit, opening up about CF in relationships, gaming, her future plans and so much more!

At 7.15, Lyndall mentions she got an infection called C diff. This refers to Clostridium difficile, a type of bacterial infection that colonises the gut in susceptible hosts and can cause diarrhoea.

We also hear from Matthew Delooze, Helpline Manager at the Trust, to find out all about the Trust's forum and how people with CF can get support and advice from others in the community.

Read the full episode transcript.

The podcast is also available on Spotify and Apple Podcasts.
What is cystic fibrosis?
Cystic fibrosis, or CF, affects the lungs, digestive system and other organs, and there are over 10,800 people living with it in the UK.
Donate today
Make a donation today to help ensure everybody with cystic fibrosis can live without limits.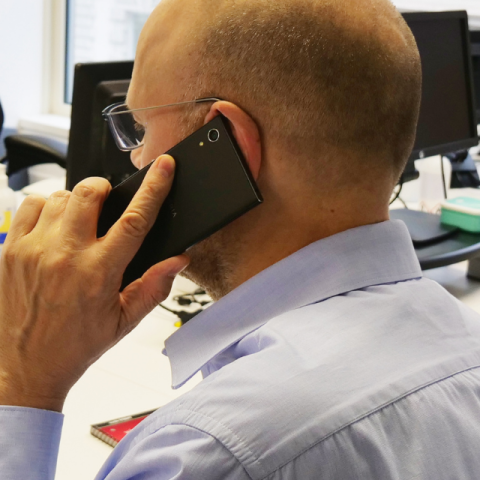 Here for you
Our friendly Helpline team are here if you need us - whether you're looking for information, support, or just someone to talk to