UK CF Registry at-a-glance report 2018
Our 'at a glance' version of the UK CF Registry Annual Data Report 2018 highlights the key information from the full report, available at cysticfibrosis.org.uk/registryreports.
The 2019 Registry annual data full report is now available to download (1.72 MB). This page will be updated soon with the 'at-a-glance' results.
Active patients
There are 10,509 active patients currently recorded on the Registry. Active patients are people who are currently alive and have had an annual review recorded in the last three years. 9,847 annual reviews were recorded in 2018.
Median age
20 is the median age of people with CF in the UK. 60.4% of the population are aged 16 or over, and 56.2% of the population are aged 18 or over.
Mode of presentation
2,751 (27.9%) people were diagnosed by newborn screening. Aside from newborn screening, the most common three presentations were: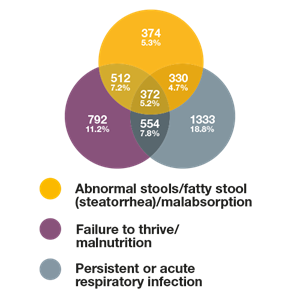 Diagnosis
23 days is the median age that people aged under 16 in 2018 were diagnosed with cystic fibrosis. 8.5% of people in the Registry were diagnosed at age 16 or over.
CF population by devolved nation
This map shows how many people with cystic fibrosis there are living in England, Scotland, Wales and Northern Ireland.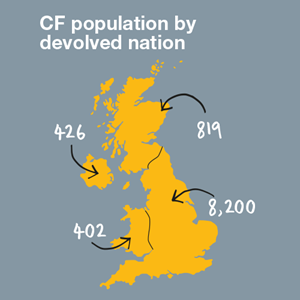 Infections
Pseudomonas
41.4% of people aged 16 and over have chronic Pseudomonas. The median age of people with chronic Pseudomonas was 24 years in 2008, compared to 29 in 2018.
88.9% of people with chronic Pseudomonas were on inhaled antibiotic therapy in 2018, compared to 76.1% in 2008.
Non-tuberculous mycobacterium (NTM)
NTM has increased from 6% to 7% in the past year. 49% of people recorded as having NTM were being treated, which is 10% ​less than in 2017.
Aspergillus
Aspergillus is reported in 8.9% of people.
Allergic bronchopulmonary aspergillosis (ABPA), an immune response to Aspergillus infection, has reduced in prevalence from 10.5% since 2013 to 7.2%.
Median predicted survival age
For people born today, using 2014-2018 data, median predicted survival age is ​47.3 years old. ​The median predicted survival age for females ​(44.1) ​is 7 years lower than males ​(51.0)​.
Of the 137 people with CF who died in 2018, the median age of death was 32 years old.
Pregnancy
45 men with cystic fibrosis became fathers.
65 women with cystic fibrosis became mothers.
Mucus thinners
32.9% of people were on hypertonic saline in 2018, compared to 5% in 2008.
65% of people were on DNase in 2018, compared to 37% in 2008.
IV antibiotics
44.7% of people had at least one course of IV antibiotics in 2018. 37.7% of these were administered in hospital, and 24% ​were administered at home.
Cystic fibrosis-related diabetes (CFRD)
11.4% of children aged 10-15 were on CFRD treatment.
33.8% of adults 16 and over were on CFRD treatment.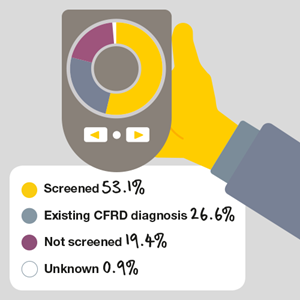 Burden of treatment
79.4% of people with CF were on at least one form of inhaled therapy, and 20.6% of people were on no inhaled therapy.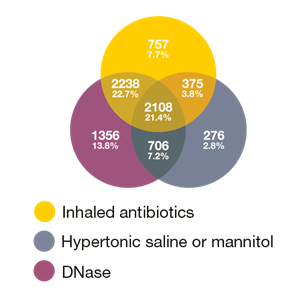 People on CFTR modifiers
612 people were on ivacaftor (Kalydeco)
372 people were on lumacaftor/ivacaftor (Orkambi)
30 people were on tezacaftor/ivacaftor (Symkevi)
Transplant
2008
126 people were being evaluated for a transplant, 55 people were accepted and 16 had a double lung transplant.
2018
247 people were being evaluated for a transplant, 104 people were accepted and 58 had a double lung transplant.
Research we fund
We fund research to tackle some of the most pressing issues in CF today. Find out how your donations are making a difference.
What is CF?
Cystic fibrosis, or CF, affects the lungs, digestive system and other organs, and there are over 10,600 people living with it in the UK.
Contact us
Get in touch with us to speak to someone on our Helpline, find out about an event or speak to our Press Team.