24 Hours for CF: dipping my toe in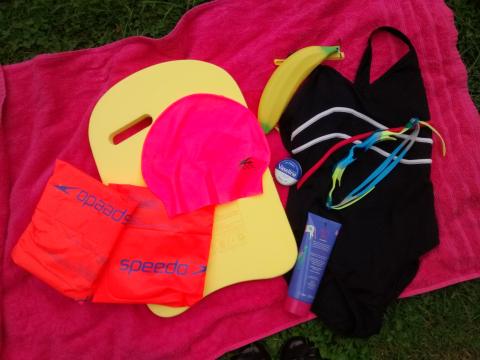 Following quite a large and sudden drop in my lung function over the spring, was the realisation that I needed to get on top of my lungs sucking less, rather than relying on my treatments and my CF team. I already walk as much as I can, but as I don't have a car, this is driven more by necessity than the idea of staying fit and I am not sure walking up the hill to the pub counts (although it is up a very long hill, so I feel like I deserve my pint when I get to the top!).
My mum recently took up swimming again, and suggested I join her one week instead of sitting around feeling sorry for myself. There's no one like your mum for telling it like it is, so I did as I was told and dug out the swimming costume from where it was laying forgotten and unloved.
You know what, I had forgotten how much I blinking love swimming! I think I had fallen out of love with it because I was so slow, my legs tended to do their own thing, I kept having to stop and I hated how much everyone stared at me when I coughed. I still hate those things, but they worry me less now.
The first time I went, getting my armbands on was a three person effort and I punched my friend in the face by accident, my legs still flayed around and I think I swallowed half the pool. But I didn't care, I was smitten. I now have some new kit (when I turned up with my new float, googles and cap, my mum kindly told me that at least I looked like I knew what I was doing, thanks mum!) and am slowly building up my strength and technique.
If you are like me, you get caught up in a new activity, but sustaining your interest long term can be tricky. Stumbling across the Trust's new 24 Hours for CF challenge felt like the answer: here was a way to give my lung function a boost, maintain my motivation and raise money. People sponsoring me could be actively responsible for improving my lung function and the lives of others with cystic fibrosis (and my mum getting a flatter tummy).
I've signed up as a team and I'm hoping that as it's virtual I can bully (talk) some others into joining us. As someone with CF, the willingness to fundraise is there, but is not matched by my ability and free time. 24 Hours for CF is enabling me to give something back, by doing something I was already doing and improve my health. I also like the idea that a group of people with CF could team up as part of this challenge, no cross-infection risks to worry about, but you are still all in it together.
A big appeal of 24 Hours for CF is that you can spread out the amount of time you spend doing your chosen activity as much as you like – you don't have to just do an intense one-off event. Although I've got a bit of work ahead of me if I want to do more than ten laps this summer!
Sign up for 24 Hours for CF, clock up 24 hours of an activity of your choice this August and raise vital funds while you're at it.