Vertex VX20-445-118
Details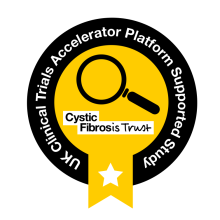 Therapeutic approach

Observational

Trials Tracker ID

TT006271

Last updated

12/02/2021
---
Full title
A Phase 4 Decentralized Pilot Study With Wearable Technology in Cystic Fibrosis Subjects 18 Years of Age and Older Taking Commercial Elexacaftor/Tezacaftor/Ivacaftor
Study details
This study is being carried out to learn more about the information that wearable technology can give us on physical activity, cough frequency and sleep quality in people with cystic fibrosis (CF). All visits in this study are home based and will be conducted via telemedicine video conference via a mobile app.
Study participation will last about 16 weeks: after a 4-week screening period with one remote study visit, there will be 12 further remote visits over the remaining 12-week study period. Throughout this study participants will continue their usual activity and treatment regime.
The study involves the participant wearing an activity monitor on their wrist for the 12-week study period. A cough monitor will be worn for 24 continuous hours once a week during the study period, and a 7-day activity and cough diary at four different times in the study will need to be completed. Participants will also answer questions about their health, medical history and medication from the study doctor; complete a questionnaire on quality of life and CF symptoms, and fill out a feedback survey at the end of the study
---
Phase

Phase 4

Length of participation

16 weeks

Recruitment target

0

CF sponsor

Vertex Pharmaceuticals Incorporated
Who can take part?
Age range

18 years and older

Including people

Forced expiratory volume in 1 second (FEV1) value greater than or equal to (≥) 30 percent predicted
Participants with an approved CF transmembrane conductance regulator gene (CFTR) genotype according to respective regional labels

Excluding people

History of solid organ or hematological transplantation
Non-ambulatory status