Your support changes lives
Take a look at how your support, in whatever form it takes, could help to fund ground-breaking research that could change the lives of people like Martin and his family.
Your support this Christmas could give people like Martin and his daughter Emily the gift of more years together. Find out more about their story, or read on to see how your donations are funding vital research.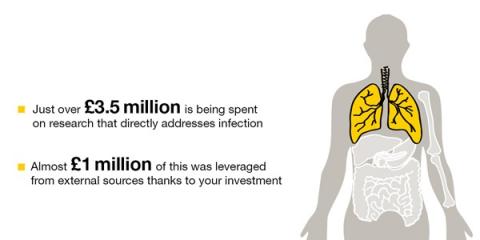 Repeated lung infections pose a huge threat to people living with cystic fibrosis (CF). When they cannot be effectively treated, they can cause lung damage and a loss of lung function over time: the main cause of premature death in people with cystic fibrosis. Thanks to your support, we are currently spending just over £3.5 million on research that directly addresses infection and almost £1 million of this was leveraged from external sources. Take a look at some of the ways we're fighting infection.
Fighting a superbug
Mycobacterium abscessus is a multi-drug-resistant superbug that is extremely diffi­cult to treat, often requiring a two-year course of multiple antibiotics. As well as causing long-term lung damage, it's thought that there are high risks for infected individuals during and after lung transplant.
What are we doing about it?
In 2014 we invested £750,000 into a three-year research project led by Professor Andres Floto at the University of Cambridge. Using the genetic code of the superbug, taken from people with cystic fibrosis around the world, the research tried to better understand how the bug is spreading, how this can be prevented, and why some strains cause more severe lung damage than others.
Previously it was thought that susceptible individuals acquired M. abscessus from the environment, eg from the soil. However, the project, which has now come to a close, showed that the majority of infections come from person-to-person transmission of recently-emerging strains of the bug. These particular strains are stronger and more harmful, and have been spreading across continents.
Changing the face of cross-infection
This new understanding of how M. abscessus spreads has helped to shape cross-infection guidelines, with the new Papworth Hospital in Cambridge adapting the design of its air-handling system as a result. It has also helped to reveal potential new drug targets, and we were delighted to announce earlier this year that we are funding a second £750,000 project led by Professor Floto to build on existing expertise.
The research, which is now underway, aims to develop custom-made antibiotics to kill M. abscessus and identify drugs that make it difficult for the bug to protect itself. Researchers hope that combining these two methods will lead to a better quality of life and increased life expectancy for those living with cystic ­fibrosis.
Fighting Pseudomonas
Pseudomonas aeruginosa is the most common bacterial infection linked with lung damage in people with CF, affecting almost two thirds of people with the condition by young adulthood. Over time it can become persistent and difficult to get rid of – conventional antibiotics are then only partially effective and frequent use can lead to serious side effects.
What are we doing about it?
Back in 2014 we announced funding for a project at University College London run by Professor Jane Davies, dedicated to tackling three major challenges: detecting Pseudomonas early, understanding how Pseuduomonas infections become chronic (persistent), and testing new, non-antibiotic treatments.
Since then, the team have explored how the bacteria's behaviour could offer early warning signs of a flare-up of the infection, and how clever viruses (known as bacteriophages) could kill Pseudomonas. Specifically, the team will be looking at how bacteriophages could break up 'biofilms', a glue-like blanket that protects the bacteria from antibiotics. So far, tests in the lab have been encouraging.
The ultimate aim is to deliver bacteriophages into the lungs of people with cystic fibrosis with a nebuliser, but more questions need to be answered before it's established if this is safe and effective. The research, which received a £750,000 investment from the Trust, is now in its third and final year and we will keep you updated with the results!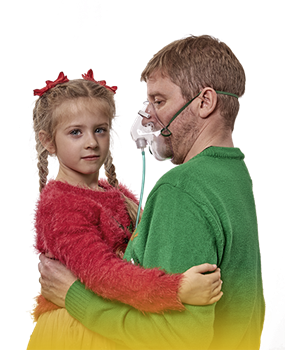 Your support changes lives
We hope that finding out about the research we are working on has inspired you to lend your support to the Trust this Christmas. Please consider making a regular donation today to ensure that we can continue to fund research, supporting vital campaigning and supply support and information to people with CF and their families for years to come.
Donate today
Your donations help us to create a brighter future for everyone living with cystic fibrosis by supporting ground-breaking research, funding vital resources and enabling us to shout loud about the issues that really matter.
Festive fundraisers
Searching for fundraising inspiration this holiday season? Download our brand new little yellow Christmas activity book for 12 fundraising ideas for all ages and abilities, from a gingerbread house competition to a gift-wrapping service!
Raffle
Play our Christmas Raffle online today or sell tickets to be in with the chance of winning £2,000, 12 other fantastic prizes and our £250 Super Seller draw. Your support is instrumental in helping people with CF and their families.