Social resources

Speak out and share your CF truth. Download our social media graphics here and help others understand what everyday life is like for people with CF.
Remember to tag us @cftrustuk and use the hashtag #CFTruths to join the conversation!
Downloadables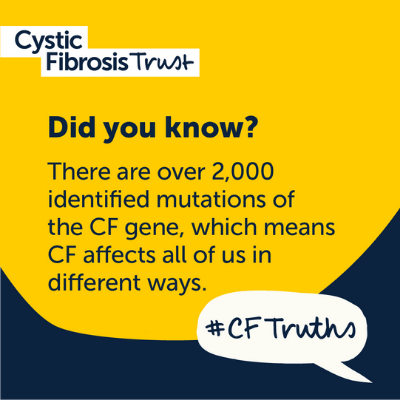 Break the ice with our downloadable resources, designed to help you share your #CFTruths.
From genetics to cross-infection, there are lots of important conversations you can have with others to help them understand what it's like to live with CF. Share our graphics on your socials to start the conversation.
Meet the brains behind the campaign
Read our interview with Caitlin, the brains behind our brand new #CFTruths campaign.
Talking to my employer about CF
Shad reflects on what he's learned after a 20-year career in IT – and why putting people first should be a company's top priority.
Cystic fibrosis and COVID-19
Why Lucy, 23, believes the pandemic means people can now understand the reality of life with CF.