24 hours and thousands of pounds for CF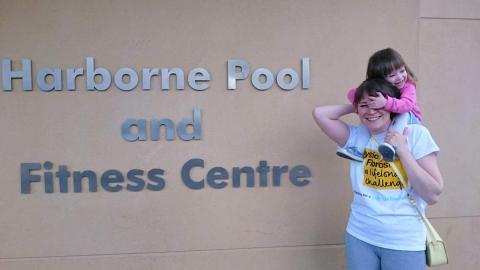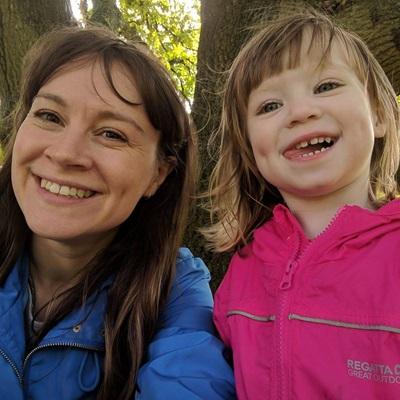 The shock of diagnosis
My two-year-old daughter Jemima was diagnosed with cystic fibrosis via the heel prick test and was hospitalised for a bowel blockage for three weeks. As is the case with many families, her diagnosis came as a shock. Once her bowel blockage was resolved we were sent home with a bag of medicines and instructions on how to keep her healthy. Along with the night wakings and nappies, we wrestled with physio, syringes of vitamins and spoonfuls of Creon. We grieved the loss of the kind of life we expected for our daughter.
The notion that we can 'keep our children well', although to an extent true, places a lot of pressure on the already full shoulders of the parents of children with cystic fibrosis. Adhering to daily physio, medication, exercise and good nutrition are tools that help fight the thick mucus that can cause infection in the CF lung. But there is a large portion over which we have little control. We can't rid the natural world of the bacteria that lurk in the places that an energetic two-year-old wants to be in the middle of. Yet I want my daughter to grow up loving life and without fear. This conundrum inspired me to participate in 24 Hours for CF. Ultimately, I can't control how well my daughter will be or how her CF will affect her, but I can exercise and raise money to fund research into new and better treatments for her and for everyone living with the disease.
Starting my journey
I approached our local swimming pool – Harborne Pool and Fitness Centre – and asked if they would sponsor me. I was nervous about asking them because I had a hip injury from pregnancy and I wasn't sure if I was capable of completing the challenge. Harborne Pool went above and beyond in supporting me. They offered me a full membership for August and sessions with a personal trainer to create an exercise plan that would strengthen my hip. Throughout the challenge they featured me on their social media pages and kept a collection tin at reception.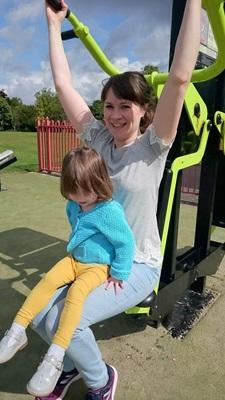 A convenient way of ensuring that you stick to an exercise regime is to ask people to sponsor you hundreds of pounds! I started with three to four sessions at the gym and a few walks and jogs with Jemima on her scooter each week. I found that I relished the space that the gym provided, the opportunity it gave me to retreat into my own quietly repetitive world. I felt my mind re-order itself as I did my exercises. Once I'd built my confidence with that routine I started trying out some classes. I discovered that I love Pilates, that it's just the right mix of relaxation and challenge. I rediscovered a love of swimming: deep breaths, controlled strokes, and the feeling of being underwater.
I felt my mood shift. The sun seemed to shine more. I ate and slept better. I enjoyed days out with my beautiful daughter who – once the cloud of anxiety I'd been carrying around for two years started to lift – I could see more clearly as a happy, healthy, curious, funny little ball of energy. I've discovered exercise to be as important a means of self-care for me as it is for her. She started asking: "Mummy, are you going to the gym today?" with the same regularity as she asks me if I'm going to work. It became part of our family routine. My husband bought a scooter and we started going on family scooting outings to local parks. Jemima tries to race her dad while I run alongside.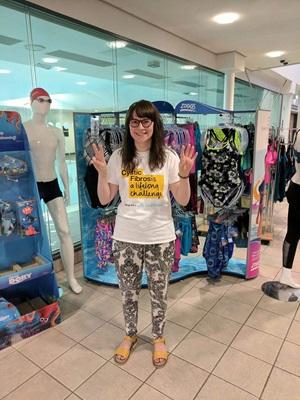 Feeling less alone
Parenting a child with a chronic health condition is undeniably lonely. Combine this with strict cross-infection rules and you have a recipe for serious isolation. One of the most heart-warming things to come out of this experience for me was the support, both financial and moral, we received from friends, family and perfect strangers. As a team, we felt ourselves being cheered on by our supporters, which gave us the motivation to carry on. I was encouraged to start sharing aspects of our daily life with Jemima to help educate people about the disease. I posted pictures on social media of a physio session, a pharmacy collection and a fat-heavy meal. I got some brilliant interaction with friends as a result of this, along with increased donations. Sharing insights into our life helped me to move forward on my journey of coming to terms with Jemima's condition. As my friends increased in their understanding of the disease, I began to feel less alone.
It's impossible to say how much I have been touched and inspired by the members of our team. My friend Maria completed the challenge with her three-year-old son Rafa – who lives with CF – and her five-year-old daughter Anna. They embarked on an ambitious regime of running, cycling, swimming and park trips. Not to be outdone, Jemima's grandad Rob – a quadruple bypass survivor with chronic kidney disease – 'swam the channel' (40km) in his local swimming pool. My friend Kathryn who, along with two other children, has a daughter who is Jemima's age, found time to swim, run and do classes at the gym for her 24 Hours for CF challenge. Jemima's 14-year-old cousin Ellie and her mum spent their summer holidays exercising to raise money.
A greater sense of purpose
It was a privilege to exercise alongside such a team. I also enjoyed following Josh Llewellyn-Jones's updates from his challenge and following others from the CF community doing the challenge. It gave me a greater sense of community and purpose, especially on those days when I felt too tired to exercise. Knowing that I was part of a community raising money for life-changing CF treatments gave me the strength I needed to get out to the gym and put in my hour a day. This is a habit I aim to continue even though the challenge is over, for my daughter and for myself.
Inspired by Anna's story? August might be over, but we still have hundreds of events and fundraising activities you can take part in to support the Trust! Why not explore our events or organise your own?