A brighter future thanks to Tomorrows today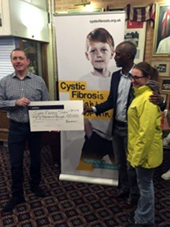 Researchers exploring the potential of gene editing for treating cystic fibrosis have received a £50,000 helping hand thanks to a donation from Tomorrows, a fundraising group supporting the Cystic Fibrosis Trust started by Timothy and Dawn Cross, whose daughter was diagnosed with CF in 2010.  
 
The generous donation in support of a new Strategic Research Centre announced by the Trust during CF Week in May, was accepted by Dalton Grant, commonwealth High Jump Champion, former Olympian, and long-standing supporter of the Trust (pictured).
Led by Professor Stephen Hart at University College London, the researchers seek to use gene editing, where the patient's CF gene is precisely repaired, to correct CF-related lung problems.
This latest donation brings the total donated by Tomorrows to a staggering £200,000, following their initial £150,000 given to the UK Gene Therapy Consortium's trial which started in 2012.  
 
Timothy Cross is hopeful that the help given by groups like Tomorrows will help fund research that will one day lead to a cure for cystic fibrosis.
 
Tomorrows' most recent fundraising event was a Family Fun Day at the Old Parkonians Football Club in Essex, which included a football tournament, raffle and auction. This annual event is now in its sixth year and they managed to raise a further £10,000 on the day.
 
Claire Phillips, Community Development and Fundraising Manager, said "It was a pleasure to finally meet Tim, who had flown all the way from Florida for the weekend just for the event, together with his family and friends who have fundraised so tirelessly for the Trust over the years. Their sixth annual football tournament was a wonderful day out for the whole family to enjoy.  We were incredibly grateful Dalton Grant was able to join us to add his thanks to Tomorrows for everything they have done to ensure a life unlimited by cystic fibrosis becomes a reality."
 
Groups like Tomorrows are helping the Trust fund a number of new and exciting research projects – make a donation and help us create a brighter future for everyone with cystic fibrosis.