A mammoth marathon and a marriage proposal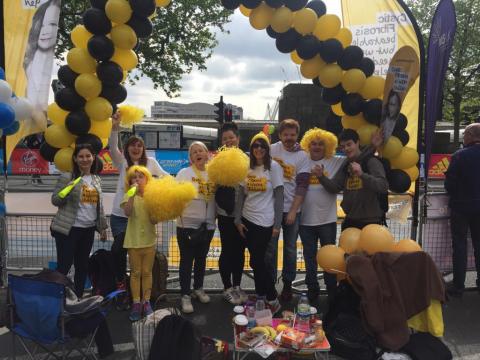 Over 130 runners took to the streets at the Virgin Money London Marathon on Sunday for the Cystic Fibrosis Trust. For one Team CF runner, Jon Higgins, the day was made even more memorable as he popped the question to his girlfriend Amy before crossing the finishing line.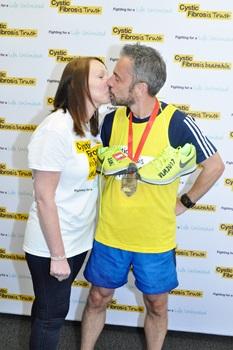 Jon went through months of tough training for the marathon, inspired by his nine-year-old daughter Eva, who has cystic fibrosis (CF). He said: "I've always raised money for the Cystic Fibrosis Trust since Eva was diagnosed, but it's only recently that I have taken on challenges as big as this. It was seeing my daughter's face on the Trust's banners along the route of the last few London Marathons that inspired me to take on one of the most famous marathons in the world."
Speaking about the moment Jon proposed, Amy said: "I was surprised to see him coming towards me. At first I thought he was just coming to give me a hug. I was so shocked by his proposal but I love him and know we will be life partners forever. I'm really proud of him for running the London Marathon for Eva who is sadly unwell at the moment."
The Trust's Chairman of Trustees, George Jenkins OBE, was one of the runners that took part in the biggest event in the Trust's calendar. Almost 60 Trust staff members lined the 26.2 mile route around the City of London to cheer on runners with balloons and pompoms, and Team CF runners took advantage of the Trust's post-event hospitality, which included hot meals and sports massages.
Fundraising Support Officer for the Trust, Jessica Nickless, was part of a cheer crew at mile 18 of the race and said: "All the runners were inspirational - seeing any of them go past us in their Cystic Fibrosis Trust tops was actually quite emotional and managed to send me into a mad, screaming, pompom-wielding frenzy!  The immense challenges they take on to make a difference to all those with CF is nothing short of amazing."
Watch the proposal
Last year the Trust's incredible runners raised enough money to fund the helpline for over five years. Want to run the London Marathon for the Trust next year? Don't forget to enter the ballot, which opens on Monday 1 May for five days.